Capt. William Swenson Receives Medal of Honor Four Years After Surviving Brutal Firefight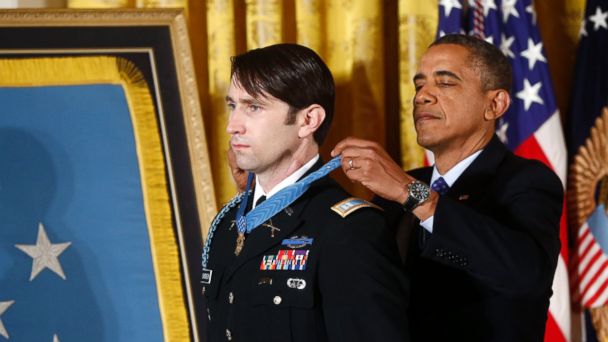 ABC News' Producer Jordyn Phelps and Digital Journalist Mary Bruce contributed to this story.
Retired Army Capt. William Swenson, who today received the medal of honor for his bravery in a seven-hour 2009 firefight in Afghanistan, is ready to go back.
One Army official told ABC News that Swenson "has contacted us about rejoining the Army and we are reviewing his request and processing it within established policy." Another official said the Army is leaning towards granting his request.
Swenson, who has been living in Seattle since he left the Army and is currently unemployed, told ABC News: "I like to call this my extended vacation."
At a ceremony at the White House today, President Obama retold the story of that fateful day in the Ganjgal Valley, near the Pakistan border, in September 2009, as he awarded Swenson the nation's highest military award for his courageous actions in a battle that claimed the lives of five Americans, 10 Afghan troops and an interpreter.
Video from the day shows Swenson, wearing sunglasses but no helmet, helping a severely wounded comrade walk into a helicopter. As the wind whips dust around them and the chopper roars, the soldier, standing in the open, vulnerable to enemy fire, says something inaudible to his fellow soldier and then leans in and kisses him on the head.
Video shows the helicopter taking off and the solider running back into battle. It was the last time the two men would see each other.
"Captain Will Swenson was a leader on that September morning. But like all great leaders, he was also a servant to the men he commanded, to the more than a dozen Afghans and Americans whose lives he saved, to the families of those who gave their last full measure of devotion on that faraway field," the president said at a White House ceremony today. "You don't have to ask Will for help; he just knows when to be there for you. So Will Swenson was there for his brothers. He was there for their families. As a nation, we thank God that patriots like him are there for us all."
Swenson, 34, who also has a Purple Heart and a Bronze Star, is the second person to receive a medal from the same battle and the sixth living recipient to be awarded the Medal of Honor for actions in Iraq or Afghanistan.
"We assumed that day was going to be an attempt to reach out to the Afghan village of Ganjgal," Swenson said. "We were trying to give them an opportunity to see their government respectfully in action, trying to provide security for their region. We figured that we would be received with a firefight, or that we would be greeted with a firefight in our exit."
Watch ceremony - Obama Gives William D. Swenson Medal of Honor
According to the Army, Swenson was an embedded trainer and mentor with the Afghan National Security Forces in Kunar Province in eastern Afghanistan to "separate the isolated mountain communities from insurgents, and, through engagement and development initiatives, connect them with the Afghan government."
"In moments like this, Americans like Will remind us of what our country can be at its best, a nation of citizens who look out for one another, who meet our obligations to one another not just when it's easy, but also when it's hard - maybe especially when it's hard," Obama said. "And, Will, you're an example to everyone in this city and to our whole country of the professionalism and patriotism that we should strive for, whether we wear a uniform or not, not just on particular occasions but all the time."
One of the fellow soldiers he helped rescue was Sgt. First Class Kenneth Westbrook.
"He was my soldier and I had a responsibility to him. He had fought bravely. He had managed to move through 600 meters while severely wounded and do numerous bounds, standing up and walking under fire and then finding cover again all while wounded," Swenson said.
Westbrook had been hit in the throat and was bleeding to death. He was the wounded soldier seen in the video.
"It was myself and another sergeant who came out of the helicopter to assist Westbrook up the last terrace. He rallied his strength, got onto his feet and walked onto that helicopter. I sat him down the door of the helicopter," Swenson said.
According to the Army, "up to 60 insurgents had infiltrated Ganjgal Village from deeper within the valley, and from Pakistan."
It was in that moment that Swenson did a very tender act and kissed Westbrook goodbye.
"I wanted to convey to him that I was proud of him and that his fight was over. He had done everything he could and it was time for him to go," Swenson said.
Obama called that moment a "simple act of compassion and loyalty to a brother in arms."
"Having that moment, being able to see the it [video], brings a humanity to that battle field and I believe it shows that bond that every soldier, every sailor, every airman and every Marine has with their fellow service members," Swenson said. "It was a unique opportunity for the family to see their husband, their father, walk out of that battlefield on his own two feet, a proud warrior. So it was an incredible moment and I am so thankful to have it."
Westbrook, 41, later died from his wounds. Four other Americans died in the ambush: Corpsman James Layton, 22; Staff Sgt. Aaron Kenefick, 30; 1st Lt. Michael Johnson, 25; and Marine Gunnery Sgt. Edwin Wayne Johnson Jr., 31.
Swenson said being awarded this medal ensures that the lives of these men are recognized.
"I now have the burden of ensuring that the dignity and character of those men on that battlefield, both living and the ones that didn't make it back, is carried on and recognized," he said. "We have service members out there doing things every day that are anonymous to the American people. They are just going about their job, doing their mission. And they do it selflessly. In this mission, one soldier is being recognized, me. But it is reflected upon the entire military."
Swenson joined the Army in 2002. He attended Officer Candidate School at Fort Benning, Ga., where he was commissioned as a second lieutenant. He separated from the Army in 2011.