WWII Vet and Vietnam Vet Marry After 20 Years
ABC News' Producer Angel Canales and Editor Arthur Niemynski report: CHULA
CHULA VISTA, CALIF. - You don't get to see two veterans tying the knot every day, but that's exactly what happened when John Banvard, 95, who served in World War II, and Gerard Nadeau, 68 (Vietnam), tied the knot at the VA Senior Home where they've lived for the last three and a half years.
Banvard and Nadeau decided to get married after 20 years together. "I never thought I'll be marrying a man," Banvard told ABC News. "It was something we were happy we could do."
Surrounded by local news crews and friends, they said their "I do"'s on Sept. 11. "It was historic for us," said Banvard. "One of the best parts of the ceremony was when he said, If you came to see the bride, you're out of luck," said Nadeau. Age difference hardly seems an issue for the couple.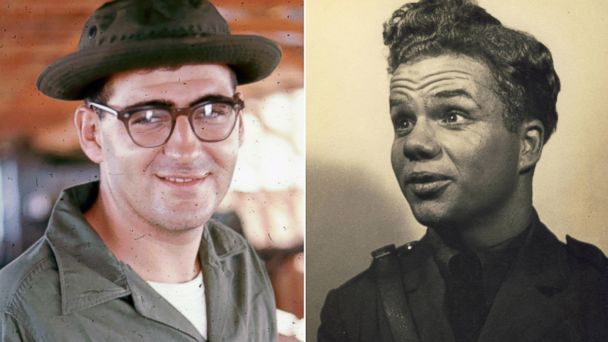 At 95, Banvard is a little slower than Nadeau, but that doesn't stop them from going on road trips, including to nearby Palm Springs, where they plan to move soon. It was always a dream for them to get married.
After the U.S. Supreme Court decision to end California's Prop 8 ban on same-sex couples' marrying, they finally got what they were waiting for. "First a couple of states recognized same-sex marriage, the closer and closer we got to know it might be legal, the more we thought about it. Until it became legal and that was when we said, Let's do it," said Nadeau. "It felt real when we took the paperwork and handed it in to the county clerk downtown."
They met in California during a brief visit to California by Banvard. "I went to Los Angeles to a good friend's funeral and a few days later I was in San Diego and that's where I met Gerard," said Banvard. A few months later, Nadeau asked him to come live with him in California and to see how things would go. They visited each other a couple of times until Banvard sold his house in Texas and moved in together.
"The way our life was before we got married is almost the same as it is now, but now I joke about it occasionally when we need to pay a bill and I'll say, Remember we're married now so we need to discuss," said Nadeau.
For the couple, the best thing about being married is the companionship. "Doing things for each other is important and enjoyable," said Banvard. For Nadeau it is also recognition that they are a couple to the public but also his family. "It was received in the family very well. We visited my mom one day and [before she goes to bed] she comes and gives me a kiss and says, 'Good night, Gerry,' and then she goes to John and says 'Well, you're part of the family so I got to kiss you too now."
John Banvard joined the Army Air Forces one week after the attack in Pearl Harbor and also worked as a teacher in speech and drama. His job in the Air Force was with radio transmitters and frequencies. Nadeau was drafted during the Vietnam War and served in communications.
Second Tour is an ABC News digital series profiling the lives of military veterans who are doing unique things in the civilian world, including vets who took on an entrepreneurial venture to create a business, grassroots organization or a second career. For more stories visit http://abcnews.go.com/US/Second_Tour/.