Professor Goes Green: He'll Live in Dumpster for a Year
It's the ultimate in going green. An environmental science professor is making a 33-square-foot dumpster his new home for the next year.
His name is Dr. Jeff Wilson, but since embarking on this journey, he's now going by Professor Dumpster.
He teaches at Huston-Tillotson University in Austin, Texas, and received his Ph.D. from Harvard.
The goal is to embrace energy efficiency, and to prove that it is possible to live on a smaller scale - a much smaller scale.
This whole project revolves around using one percent of what an average American uses: one percent of the water, energy and waste.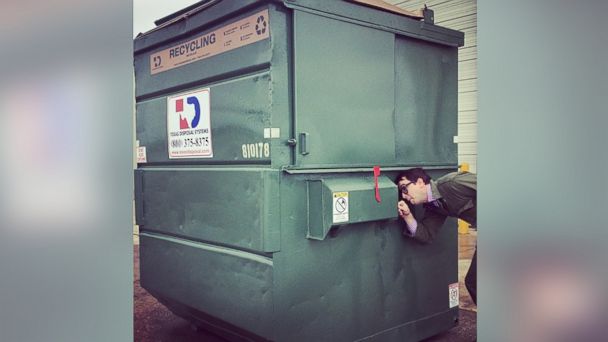 Dr. Jeff Wilson checks out his new 33 square foot dumpster home. (Credit: @profdumpster/Instagram)
"We really needed some sort of excitement around science, sustainability and technology," says Wilson.
He says the idea came to him over two years ago. Since then he's been recruiting a world-class team of professors, scientists and environmentalists to make his idea a reality.
"My hypothesis is that my life will be better," Wilson says. "I'll be fulfilling a richer life by living a smaller life."
Last night was the first night in his new home. Wilson says that in this phase of the project, the only thing he has to keep him warm during the cold Texas nights is his sleeping bag.
He's embracing the simplicity, and welcoming the changes that will come in the next year of the project. Instead of being strapped down to expensive monthly rent, he'll be a homeowner with his mortgage paid off.
But dumpster living comes with challenges, like walking a mile down the hill to the town lake for water.
The outlook is positive, though. Wilson says in six months he hopes to have things like an air conditioner and an X-box. A shower, a toilet and even WiFi is in the works, too.
Dr. Wilson has a whole team behind him, including a student organization called Green is the New Black. He says team members can even volunteer to spend the night in the dumpster and give him the night off. As the project progresses, the team will be fundraising for low-energy appliances and electronics, and will monitor the energy used on the team's blog.
He'll be taking his dumpster home to local elementary schools and sharing his project with the students. It gives the students the opportunity to give him design ideas and ask questions. One of the most pressing so far: "How is Santa going to get in?"
To follow Dr. Wilson and his team's journey through dumpster living, check out the blog at dumpsterproject.org.