Russia Denies Harassing US Officials, Says Its Diplomats Also Targeted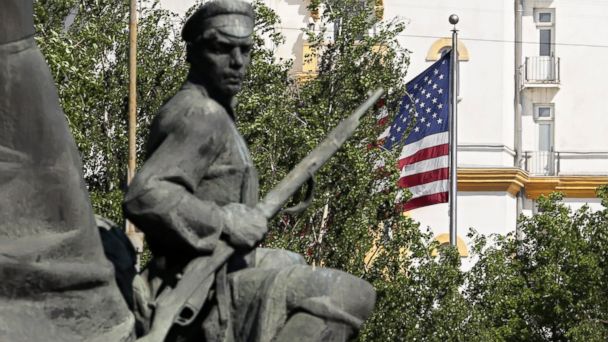 MOSCOW - The Russian Foreign Ministry has denied reports that Russian security services are harassing American diplomats at a level not seen since the Cold War.
"The voiced complaints are below the level of cheap spy detective stories," the ministry said.
The statement also included complaints about the treatment of Russian officials in the United States.
On Monday, ABC News published a report about the increasingly aggressive harassment of U.S. officials in Russia, citing a public State Department audit.
"Across Mission Russia, employees face intensified pressure by the Russian security services at a level not seen since the days of the Cold War," the Office of Inspector General wrote.
US Embassy in Moscow Faces Cold War-Era Harassment
Russia Pulls Out of US-Funded Student Exchange Program
The Amazing Way Some Russians Are Celebrating Putin's Birthday
The harassment included slashed tires, hacked personal email accounts and mysterious break-ins at diplomatic residences, according to U.S. officials who spoke on the condition of anonymity to discuss sensitive security and diplomatic matters. The pattern began in late 2011 and has escalated as U.S.-Russia relations have deteriorated, officials said.
An embassy spokesman acknowledged the alleged Russian behavior, saying "Embassy and State Department officials have discussed issues of harassment of American staff with various interlocutors within the Russian government."
"Obviously, we wouldn't be doing that if we didn't have concerns," State Department spokeswoman Jen Psaki added later.
President Obama has complained about the behavior to Russian President Vladimir Putin and Secretary of State John Kerry confronted his Russian counterpart earlier this month, U.S. officials said.
The Russian Foreign Ministry response claimed that its officials are also mistreated in the United States.
"Our diplomats are constantly approached with recruitment offers, suffer from rude provocative tactics by using illegally obtained personal information, including information on the state of health of family members," the statement said.
The ministry also cited a reported FBI investigation into alleged spying by the head of the Russian Center for Science and Culture in Washington, which is funded by the Russian government.
A day earlier, when asked how the United States treated Russian diplomats, State Department spokeswoman Psaki told reporters: "We are treating any Russian officials here with the utmost respect in - you know, consistent with international law."
Russia's Foreign Ministry also complained about the driving of some American diplomats in Russia, saying they have already committed more than 20 traffic violations this year.
"We advise our colleagues from the State Department not to add more negative sentiment to the already existing gloomy background in the development of our relations. This is not the way to solve problems; it is the way to make them even worse," the Russian statement concluded.