Gwyneth Paltrow Enters the Mommy Wars: 'Compromise…To Be a Wife'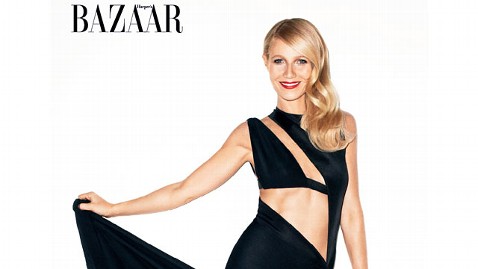 Gwyneth Paltrow has stepped out of a magazine's pages and into the mommy wars.
In a new interview with Harper's Bazaar, the movie star and mother of two, revealed that she advised a girlfriend - an unnamed fellow actress - that she needs "to compromise…to be a wife." She also talks about being home when her husband returns from work as a way to maintain her marriage and family.
Her words are rubbing a number of moms the wrong way, with some accusing Paltrow of being judgmental and out of touch.
"This is going to make a lot of people feel, at best, inadequate and, at worst, angry (because) the average person really has no chance to live the lifestyle that Gwyneth has,"  said Carol Evans, the president of Working Mother Media, which publishes Working Mother magazine.
Paltrow is married to Coldplay lead singer Chris Martin. The friend she gave advice to, she said, also has a signficant other with a "big career."
"I said this may not be feminist, but you have to compromise. It's been all about you and you're a big deal. And if you want what you're saying you want - a family - you have to be a wife, and that is part of the equation," the actress said.
Paltrow has a nanny, runs her lifestyle website Goop, pursues other projects - including a new cookbook - and travels for work. But said she's the one usually cooking her family's dinner and giving her kids a bath.
"I have little kids in school. I want to maintain my marriage and my family, so I have to be here when (Martin) comes home," she said.
Paltrow clearly knew that her comments could come off as controversial.
"Gloria Steinem may string me up by my toes, but all I can do is my best, and I can do only what works for me and my family," she said.
Paltrow's comments have already irked some in the momosphere who argue that the actress' out-sized wealth affords her family time that others could only dream of having.
"(W)hen you talk about having a nanny AND a driver AND a chef, it's pretty easy to talk about putting family first, isn't it?" wrote blogger Tracey Gaughran-Perez at Babble Voices. (Babble is owned by Disney, which is also the parent company of ABC News.)
Gaughran-Perez also questioned why Paltrow didn't speak to the importance of having husbands make compromises too.
Blogger Kelcey Kintner of The Mama Bird Diaries   agrees.
"I think some of her statements might feel a little judgmental to me," she told ABC News. "I don't think it's the woman's responsibility to be home for her husband, don't think it's man's responsibility to be home for his wife. I think it's everyone's responsibility to spend as much time together as possible and I think it takes work to make that happen."
Some suggest Paltrow is a hypocrite.
"For Paltrow to suggest that married women must never leave the hearth in order to make their relationships last is patently false, a fact that she herself has proven with her jet-setting lifestyle. Paltrow may see herself as a homemaker and wife, but truth be told she's as business-driven and busy as any of the world's most powerful women," wrote Babble and Stroller Derby blogger Carolyn Castiglia.
Part of what's driving moms' frustrations, said Working Mother's Evans, is that, in addition to her wealth,  Paltrow has achieved the holy grail of working motherhood: part-time professional work that she can leave and come back to again.
A recent study found that mothers who work part-time are happier than full-time working moms and stay-at-home moms.
"Gwyneth is making choices for her life and it's not really relevant to most moms," Evans said. "Part-time professional work is remarkably hard to find."
"We all make compromises in our lives and the more resources you have, the less compromising you have to do," she said.
Not everyone disagrees with Paltrow, however.
Melissa Chapman, a blogger for Lifetime Moms and MarriedMySugarDaddy.com, said it's tough for both parents to have high-powered careers and it's better for mothers and fathers to take turns super-charging their work-lives. Chapman, a suburban New York mom with two children, said she's now her family's primary breadwinner, but earlier in her marriage, supporting the family was her husband's role.
"I don't think you can both be the alpha at the top of your game and not have your marriage suffer," she said. "There's got to be one primary parent there who knows my job is to handle the homestead and be the rock for my spouse."
"Right now, (Paltrow's) going to be the good wife and good mom and (Martin's) going to have his time in the limelight," Chapman said. "Maybe in a couple of years, the roles will reverse."