Route 66 occupies a mythical place in the American zeitgeist. No other single road encapsulates the wanderlust, migration, independence, creative capitalism and love of automobiles like this stretch of highway connecting Chicago to California. Called the Mother Road in John Steinbeck's "The Grapes of Wrath," the route was commissioned in 1926 by the Bureau of Public Roads, which pieced it together using existing local, state and national roads. It was a main drag for Dust Bowl farmers heading west and, later, vacationers heading to Disneyland. Passed over by motorists in favor of the more direct Interstate 40, Route 66 was removed from the federal register in 1985. Today, the stretches that remain of the long highway still lure tourists and nostalgic road travelers, a living monument to American history.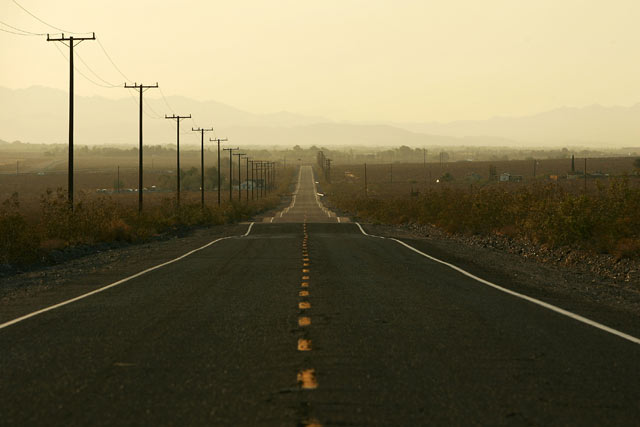 Route 66 carries little traffic on June 16, 2007, east of Daggett, Calif. Route 66 opened in 1926, stretching from Chicago to Los Angeles and became a western migration route for people looking for work during the Great Depression of the 1930s or to escape the Dust Bowl disaster. (David McNew/Getty Images)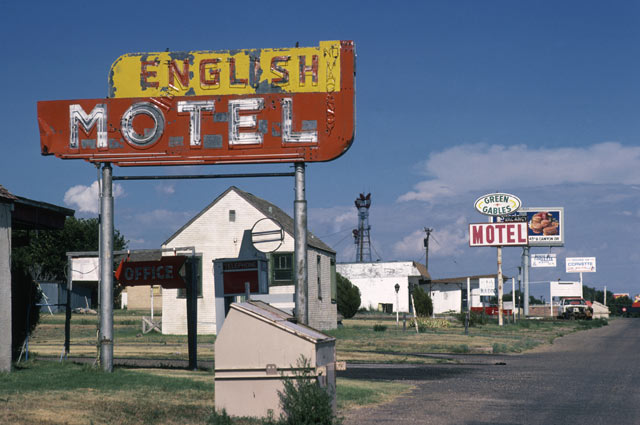 The English Motel and Green Gables Motel provide rest for travelers on Historic Route 66 in the city of Amarillo, Texas, 1989. (Richard Jordan/Hulton Archive/Getty Images)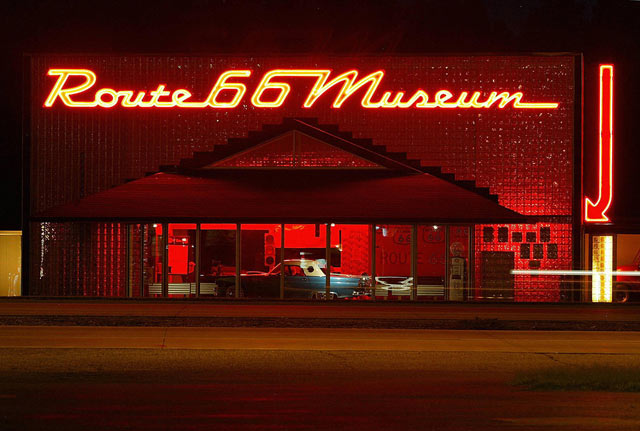 The Route 66 Museum in Clinton, Okla., along Route 66. Historic Route 66 passes through eight states from Illinois to California, and every state has made efforts to support and highlight the old in an effort to revitalize the history and capitalize on the tourist trade associated with the historic route. (Robyn Beck/AFP/Getty Images)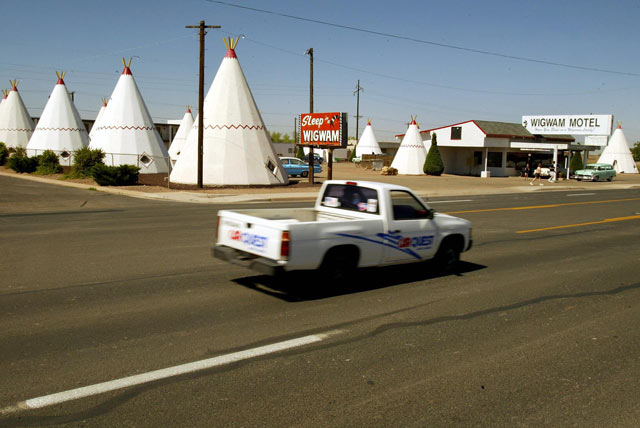 A truck drives by the Wigwam Village on Route 66 in Holbrook, Ariz. The village opened in 1950 serving travellers on the road connecting Chicago to Los Angeles. After Route 66 was bypassed by the interstate, owner Chester Lewis closed the motel due to lack of business. Now Lewis' son and daughter have reopened and renovated the teepee motel, which still has the original furniture and fixtures. (Robyn Beck/AFP/Getty Images)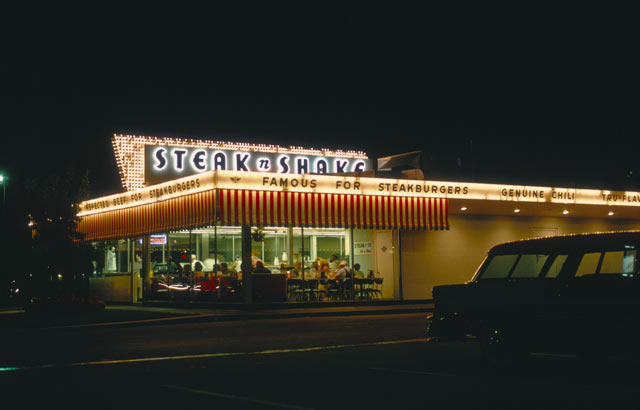 A Steak 'n' Shake diner, 'famous for steakburgers', in Springfield, Mo., one of the stops along Route 66, 1989. (Richard Jordan/Hulton Archive/Getty Images)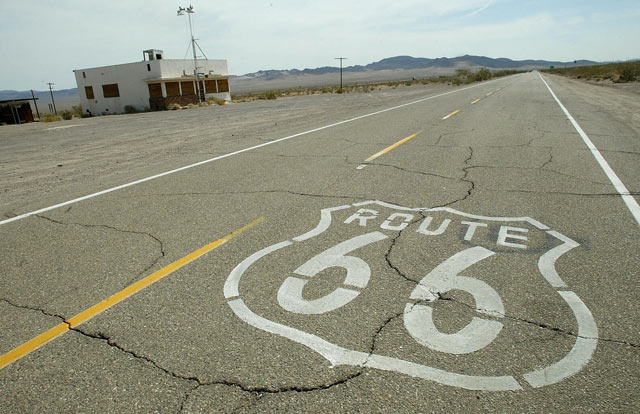 Route 66 is stenciled on the old road through an abandoned town in California's Mojave desert. (Robyn Beck/Getty Images)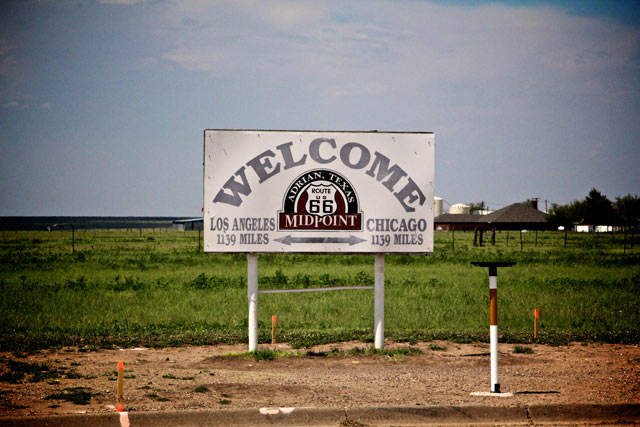 The middle of Route 66 is in Adrian, Texas. (Melissa Mahoney/Getty Images)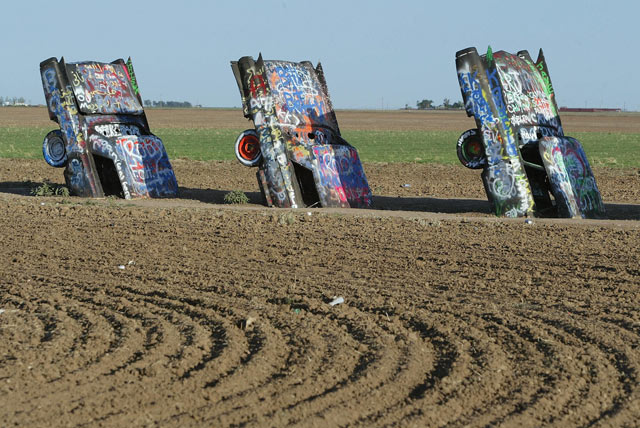 Cadillac Ranch on historic Route 66 in Amarillo, Texas. As a tribute to America's relationship with one of its favorite automobiles, a collective of artists called Ant Farm decided to place 10 Cadillacs, ranging from a 1949 Club Coupe to a 1963 Sedan, in a wheat field located west of Amarillo. Cadillac Ranch is a popular stopping-off point for tourists. (Robyn Beck/AFP/Getty Images)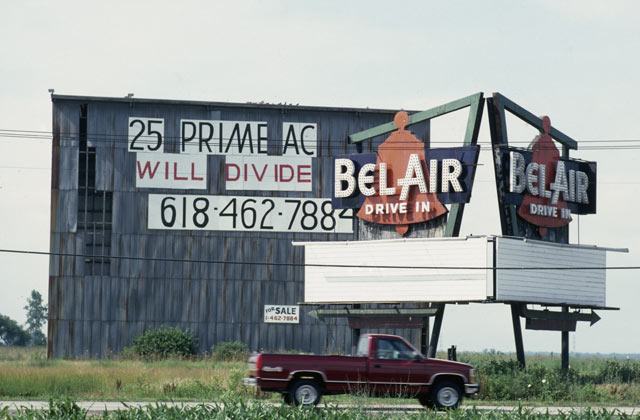 The remnants of the Bel Air Drive In cinema in Mitchell, Ill., one of the stops along Route 66, 1989. (Richard Jordan/Hulton Archive/Getty Images)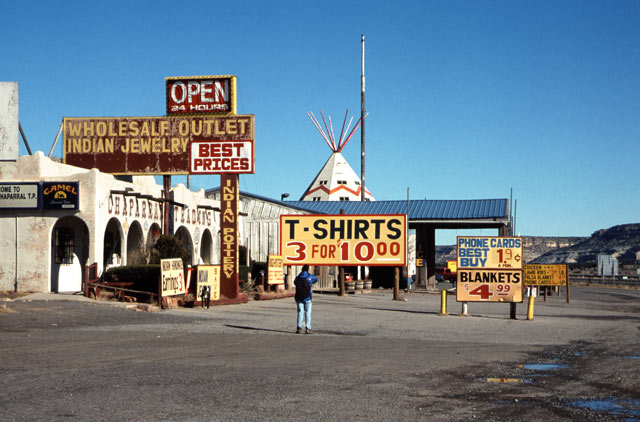 The Chief Yellowhorse Trading Post along Route 66 near Lupton, Ariz., was a popular stop for tourists traveling the historic highway, and later Interstate 40, from the 1960s through the 1990s. Yellowhorse died in 1999 and the complex, on the Navajo Reservation at the Arizona-New Mexico border, has struggled to remain open since his death. (Robert Alexander/Getty Images)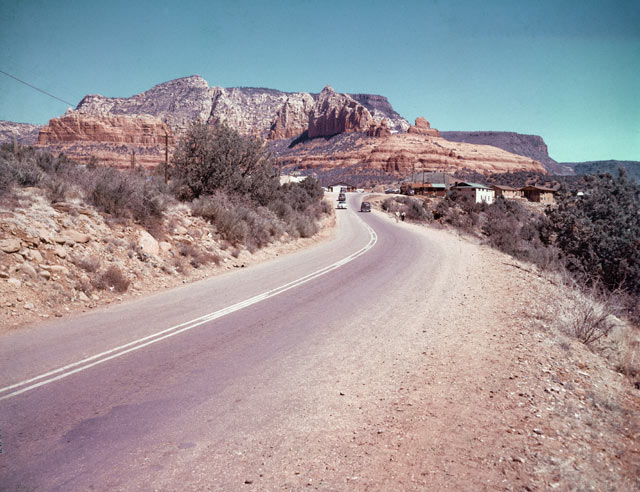 A view of Route 66 in Arizona, circa 1960. (Hulton Archive/Getty Images)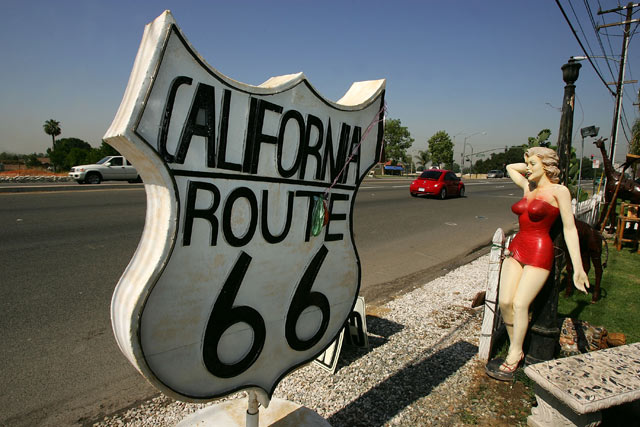 A Marilyn Monroe statue stands along old Route 66 on June 15, 2007, in Rancho Cucamonga, Calif. (David McNew/Getty Images)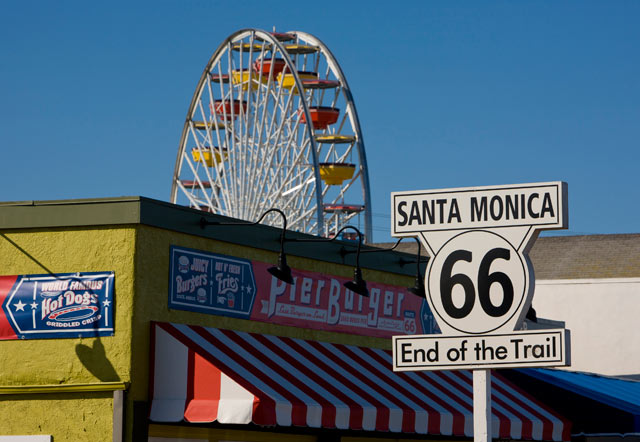 A sign at the Santa Monica Pier signals the end of Route 66 on April 14, 2012, in Santa Monica, Calif. (George Rose/Getty Images)
See more featured photography curated by ABC News' photo editors, and at Picture This, the ABC News photography blog.