Oklahoma Rivers, Lakes Making Caviar Dreams Come True
ABC News' Darren Rovell reports:
Caviar, preferred by society's upper crust, is now being sourced from the most unlikely of places - Oklahoma.
The most famous caviar comes from Russia, where the Beluga sturgeon live in the Caspian Sea; however, a significant decrease in the number of fish has led to fishing restrictions.
Enter the landlocked state of Oklahoma, where the American paddlefish and its copycat eggs reside in rivers and lakes.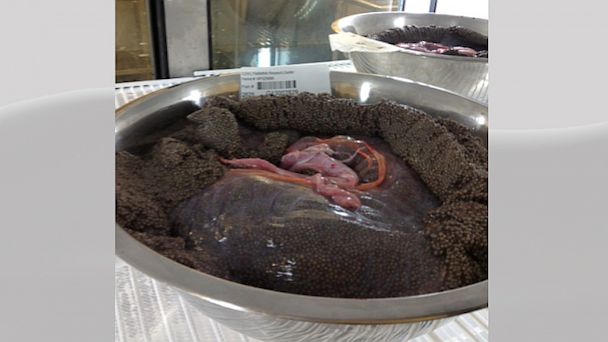 Try this recipe: Smoked Salmon on Toast With Dill and Caviar
"We've had buyers from Europe, Japan, all over," said Brent Gordon, who works for the state and supervises the Oklahoma Department of Wildlife Paddlefish Research Center. "They're the first to tell us that the quality of our eggs and the quality of our operation is second to none."
He issues fishing permits to anyone interested in snagging a paddlefish. The free permit includes a service - the state picks up the fish, cleans and filets it and then gives it back. The catch: The wildlife department takes biological samples from the fish for research, and sells whatever caviar it finds.
Fishermen seem to love the deal. They come from all over the Midwest to catch the giant paddlefish. With some weighing in at nearly 100 pounds, there is little like it in the center of the country.
Corey Clark of Mondhaven, Iowa, said, "The excitement of a larger fish and being caught" had brought him.
"It's definitely a unique fish that's not found in a lot of places," he said.
Gordon said the demand was so high, and the fish so plentiful, that his facility had processed 15,000 pounds of caviar in a monthlong stretch.
Seventy percent of the caviar has already been sold to wholesalers in Japan to the tune of $135 a pound - adding up to $1.4 million.
It has its fans stateside, too. Oklahoma's paddlefish eggs can be found even in New York's finest restaurants alongside top-of-the-line caviar.
"We've known about paddlefish, but the popularity has been on the rise over the last five years," said Ilya Panchernikov, manager of Caviar Russe, a restaurant and caviar retailer in New York. "[Patrons] want to have something nice, but they don't want to break the bank. They'll say, 'Let's try the paddlefish.'"
The money from the sales funds the state's Department of Wildlife.
ABC News' Jared Wiener contributed to this story.