Michelle Obama Honors Military Families at White House
Earlier this week at the White House, first lady Michelle Obama honored military families and reflected on their sacrifice.
"I have spoken with so many military spouses who are raising their kids alone while their loved one is stationed overseas for months at a time. I have heard from so many wonderful military children who pick up extra chores, and just step up and keep their grades going while mom or dad is away.
"And I've been inspired by the survivors of our fallen who keep giving back to the community day after day," she told military families  gathered at the White House  Wednesday, where the  children viewed two Christmas trees decorated in honor of military families.
The first tree honors Gold Star Families – the immediate family members of service members who have died in a combat zone. Hanging on the tree were photos and messages from more than 800 Gold Star families. Michelle Obama read some of the notes aloud.
"They are heartfelt notes, like this one from a wife in East Peoria, Ill. She wrote about her husband, saying, and this is — these are her words – 'He never thought of himself as a hero, but he always was to me. It is still hard to know he's gone. He was my soulmate.' Or they're simple messages, like this one from a mom in Anchorage, Alaska, and she wrote, 'I love and miss you, son. Thank you for all of the great memories we shared.'"
Gold Star families who visit the White House in the coming weeks can create a special ornament to hang on the tree, bearing the name of their loved ones.
The official White House Christmas tree, in the Blue Room, was decorated with cards collected from military children, service medals, patches, badges, ribbons and pine cones.
"Some are inspiring, like the five children in Medical Lake, Wash., who wrote, 'No matter how many Christmases our dad misses, he makes every Christmas special and we love him,'" the first lady read.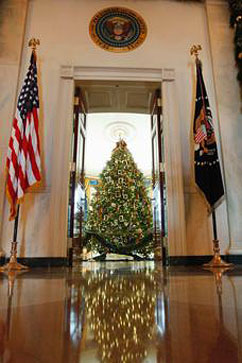 Michelle Obama also commented on the gap between civilians and the families of the less-than-1 percent of Americans who serve in the military.
"I also know that not every American hears these stories. Not every American knows what a Blue Star family is, or a Gold Star family is. We don't all understand what it's like to be in a military family.
"And that's one of the reasons why Jill and I started our Joining Forces initiative, because we wanted to rally all Americans to honor, recognize and support our military families. We wanted to make sure that never again would someone have to ask the question, what is a Gold Star family, and what does that sacrifice mean? We all should know."
The Joining Forces initiative created by Michelle Obama and  Jill Biden was designed to energize action from every sector of our society — individuals, businesses, nonprofits, philanthropy and faith-based institutions — to give service members, veterans and their families support. The initiative has mainly focused on public awareness, employment, education and wellness.
In addition to making public appearances and producing public service announcements, the initiative has spurred the American Association of Colleges for Teacher Education and military child advocacy group Military Child Education Coalition to commit to collaborating and implementing military child-related curriculums in 100 universities around the country in 2012. Joining Forces has also led Medscape, a site for health care professionals, to launch a resource center and curriculum on military family health care last summer.
Perhaps most important, Joining Forces has focused on unemployment.
According to the latest jobs report, veteran unemployment dropped 0.4 percent for veterans of all generations from this time last year, and a full 1 percent for those who have separated from the military since 9/11. Yet, according to a recent Stars and Stripes article, the unemployment rate among military spouses currently sits at 26 percent.
More than 1,500 private sector companies have risen to the challenge and already hired more than 20,000 veterans and spouses in the past four months, according to a Joining Forces spokesperson. The White House is also working with the American Logistics Association, the International Franchise Association, the Defense Department's Military Spouse Employment Partnership, and has put up the "Veterans Job Bank" website.
Michelle Obama acknowledged that the holidays ahead would be tough for some families.
"You truly represent what is best about America," the first lady told the families at the White House on Wednesday.
"I want to thank all of the Gold Star families for your enduring strength and commitment to this country. And I want to thank all of the troops, all of our veterans, all of our military families, whose service and sacrifice inspires us all," she said.
"So thank you. Thank you. Thank you. We can't say it enough. Thank you. I know for some of you, this holiday season will be tough. But hopefully, it's times like this that make you know that you live in a grateful nation, and that we are just so inspired by your sacrifice. And hopefully, this is a memory that will stay with you every holiday season."
Visitors to the White House can also thank service members overseas, by writing handwritten notes that will be sent to troops during the holidays.