Obama Nominates Comey to FBI, Thanks Mueller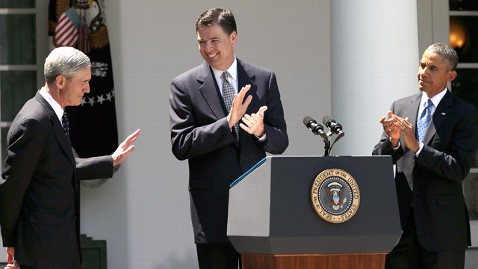 President Obama today formally nominated James Comey as the seventh FBI director and thanked Robert Mueller for being "an exemplary public servant."
Obama called Comey the "perfect person" to replace outgoing director Mueller.
"To know Jim Comey is also to know his fierce independence and his deep integrity," Obama said. "He's that rarity in Washington sometimes: He doesn't care about politics, he only cares about getting the job done. At key moments, when it's mattered most, he joined Bob in standing up for what he believed was right."
Comey is known for a tense standoff when serving as acting attorney general in 2004 with White House Chief of Staff Andy Card and White House counsel Alberto Gonzales. The two men visited the ailing Attorney General John Ashcroft in his intensive care hospital room to try to obtain reauthorization of the administration's terrorist surveillance program.
"Jim understands that in time of crisis, we aren't judged solely by how many plots we disrupt or how many criminals we bring to justice; we're also judged by our commitment to the Constitution that we've sworn to defend and to the values and civil liberties that we've pledged to protect," Obama said.
Following his post at the Department of Justice, Comey worked for Lockheed Martin Corp. and Bridgewater Associates. Prior to serving as deputy attorney general, Comey was the U.S. Attorney for the Southern District of New York where he helped bring down the Gambino crime family, and served as the managing assistant U.S. attorney in charge of the Richmond Division of the U.S. Attorney's office for the Eastern District of Virginia.
The former deputy attorney general under President George W. Bush said he didn't have "the words to describe how excited" he was to be returning to the Department of Justice
"I must be out of my mind to be following Bob Mueller," Comey said. "I don't know whether I can fill those shoes, but I know that however I do, I will be standing truly on the shoulders of a giant, someone who has made a remarkable difference in the life of this country."
Obama urged the Senate to "act promptly" in confirming Comey, who would serve as director for 10 years.
At least one prominent Republican, Sen. Chuck Grassley (R-Iowa), the ranking member of the Senate Judiciary Committee, which is tasked with confirming Comey, said in a statement that Comey's experience will be a "benefit" to the FBI.
"He's previously dealt with these matters with integrity and shown a willingness to stand his ground if necessary," Grassley said.
Obama praised outgoing director Robert Mueller, who has served for an unprecedented 12 years , for his dedication and commitment.
"You will be remembered as one of the finest directors in the history of the FBI," Obama said to Mueller. "I know very few people in public life who have shown more integrity more consistently under more pressure than Bob Mueller."
Mueller was first appointed by President George W. Bush a week before Sept. 11, 2001. When his 10-year term was set to expire in 2011, Obama requested Congress grant an extension given, Obama said, "the threats facing our nation."
"Countless Americans are alive today and our country is more secure because of the FBI's outstanding work under the leadership of Bob Mueller," Obama said.
ABC's Arlette Saenz contributed to this report