Watchdog Found IRS Softer on 'Progressives' Than Tea Partiers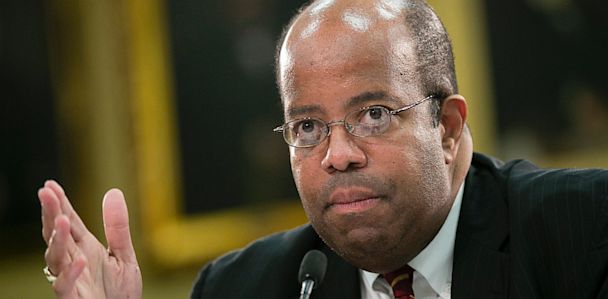 The Internal Revenue Service scrutinized "progressive" groups less harshly than conservative groups, the Treasury Inspector General said in a letter to Congress this week.
J. Russell George, the investigator who carried out a probe into the IRS' targeting of groups that applied for tax-exempt status, said he did not limit his investigation to tea party groups.
"Our audit did not find evidence that the IRS used the 'progressives' identifier as selection criteria for potential political cases between May 2010 and May 2012," George wrote in a letter to House Ways and Means ranking Democrat Rep. Sandy Levin.
The revelations come after Democrats seized on a set of redacted spreadsheets released this week that detailed the "Be On The Lookout," or BOLO, criteria used by the IRS tax-exempt group to screen applications. On that list was "progressive" as well as "tea party."
Although "tea party" applications were sent to a team of specialists that looked into potential political cases, Russell says, "progressive" groups were sent to a different team within the IRS for processing.
Democrats on the House Ways and Means Committee have summoned George to testify under oath once again to answer questions about his audit report.
During a hearing today at the House Ways and Means committee, Chairman Dave Camp said that so far the evidence only shows conservatives being "systematically targeted" by the IRS, rather than liberal groups that were simply flagged "to be on the lookout."
Conservatives "consistently had their applications delayed for nearly 3 years, were asked intrusive and inappropriate questions, had their donor information leaked and were even threatened by the IRS with additional taxes," Camp, R-Mich., said.
"If there are any additional groups of any political affiliation that feel they were mistreated, I urge them to come forward and share their story."
But Democrats have directed their ire at the inspector general, who they say has fueled "innuendo" that the targeting was politically motivated.
"The I.G.'s failure to be forthcoming in the audit and at congressional hearings, even when asked directly if there was a screening list for progressives and whether progressive groups were included among the 298 applications reviewed by TIGTA [Treasury Inspector General for Tax Administration] has contributed to the distortion of … the entire investigation, including use of innuendo and totally unsubstantiated assertions of White House involvement," Levin said at today's hearing.
Daniel Werfel, the principal deputy commissioner at the IRS, also came under fire for his 30-day review that was submitted earlier this week, which did not identify any individuals responsible for beginning the practice of political cases, or the leaking of confidential taxpayer information and threats to conservative donors of additional taxes.
"Our report outlines management deficiencies and the steps that must be taken to correct them," Werfel testified. "Importantly, the report does not provide a complete and final set of answers.
"Instead, it offers an initial set of conclusions and action steps along with an explanation of the additional reviews and investigations under way."
That report also included a request for Congress to fund the IRS at the tune of $1 billion, irritating the chairman.
Committee chairman Camp said, "It's insulting to taxpayers that the IRS would ask for an additional billion dollars right after we find out that the IRS is targeting taxpayers for their beliefs … after they spent millions of taxpayer dollars on frivolous conferences, produced completely useless videos and put expensive dinners and alcohol on IRS credit cards.
"Until the IRS proves that it can responsibly manage its current funds, the IRS will not see one more dime in taxpayer funding."
Still, Werfel told the committee that his review did not find evidence "of intentional wrongdoing by anyone at the IRS or involvement in these matters by anyone outside of the IRS."
"The IRS … is committed to correcting its mistakes, holding individuals accountable as appropriate and establishing control elements that will help us mitigate the risks we face," Werfel testified. "The employees of the IRS are committed to our mission and to operating with integrity and fairness to all."
Rep. Charles Boustany, R-La., grilled Werfel on bonuses that were handed out to some managers who were involved in the targeting, including one who received $83,000 in bonuses in addition to his $177,000 salary.
Werfel called it "troubling" but said he could not freeze bonuses legally without negotiating with the IRS employees union.
"My first step in my legal requirement is to bargain that issue with the unions, and that takes time," Werfel said. "We're going through that process right now."