State Dept. on Assad Instagram: #Despicable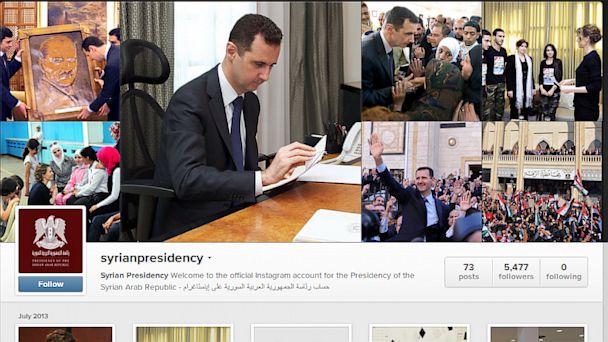 Embattled Syrian President Bashar Al-Assad has apparently opened up an Instagram account, Syrian Presidency, which reads, "Welcome to the official Instagram account for the Presidency of the Syrian Arab Republic."
There are currently 73 posts in the account with more than 5,000 followers. The presidency is following no-one at the moment. ABC News could not independently verify the origin of the account, but many of the images have appeared on President Assad's official Facebook page.
The account is primarily filled with pictures of his glamorous wife, Asma, who was once featured in Vogue magazine, playing with children, comforting wounded women in hospitals and handing out flags. In one picture she even wipes a tear from a young boy's eye.
There are also a few pictures of Assad himself, working diligently at his desk, shaking hands with women and waving to adoring crowds.
Wednesday the State Department had some harsh words for the site, among them "despicable" and "repulsive."
"This is nothing more than a despicable p.r. stunt," spokesperson Marie Harf told reporters at the briefing today. "It's repulsive that the Assad regime would use this to gloss over the brutality and suffering it's causing, that - to see what's really happening right now in Syria, to see the horrific atrocities in Homs and elsewhere, we would encourage people to take a look at unfiltered photos of what's actually happening on the ground."
Activists have launched a mirror Instagram account in response, with the same Syrian Presidency name and logo.
But this reads, "What's outside the window of the 'official Instagram account for the Presidency of the Syrian Arab Republic' … feel #FREE to follow the truth."
The 22 posts on the account show bloodied children and babies, and bombed-out streets. There is one picture of Assad. But he's not waving at crowds or hugging people. The picture has his image over the words "There is genocide in Syria. Share if you care."
The United Nations estimates that at least 100,000 people have been killed in the brutal civil war over the last two years. The conflict has also sparked the largest global refugee crisis in 20 years, with nearly 2 million Syrians fleeing the country.
ABC News's Nadine Shubailat contributed to this report.