Bush 41, Reagan Consoled Nixon During Watergate Scandal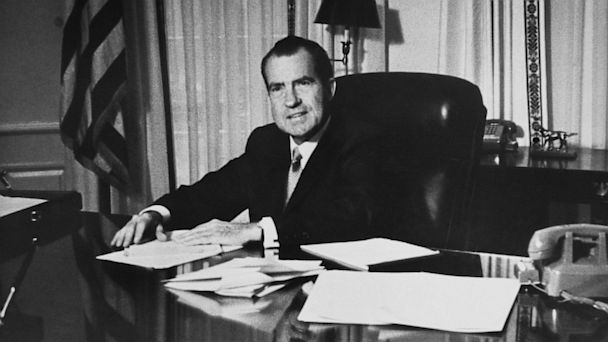 ABC News' Shushannah Walshe, Alisa Wiersema and John Donvan report:
It was a day that President Richard Nixon surely would like to have forgotten.
It was less than a year after the Watergate break-in, and three of his top aides had resigned and one had been fired. The 37th president went on national television to tell the American public that "whatever improper activities may yet be discovered in connection with this whole sordid affair … I want you to know beyond the shadow of a doubt that during my term as president, justice will be pursued fairly, fully, and impartially, no matter who is involved."
Sixteen months later, he would resign in disgrace, but by the end of that day, April 30, 1973, he received two warm, encouraging phone calls from two future presidents, Ronald Reagan, who assured Nixon "this too shall pass," and George H.W. Bush who told him "this is gonna come through good," according to audio recordings released by the National Archives and Records Administration today.
Earlier that day, two of his top aides, H.R. Haldeman and John Ehrlichman, had resigned. So had Attorney General Richard Kleindienst, and White House counsel John W. Dean III was fired. It was 10 months after the Watergate break-in and 16 months before the 37th president would resign in disgrace.
"There are several moments when people talk about America 'losing its innocence.' Watergate was one of those moments," Ken Hughes, a researcher with the Presidential Recordings Program at the University of Virginia's Miller Center, told ABC News. "Nixon had just won the second biggest presidential landslide ever and his approval rating had dropped 14 points since the beginning of the year and it looked like it was going to continue to go down." The mood of the country, he added, was "stunned, shocked, disbelieving."
The audio was captured on a secret recording system that taped more than 3,000 hours between February 1971 and July 1973. The final installment of those tapes, 340 hours, was released Wednesday.
The governor of California, Ronald Reagan, had reached him first that evening.
While Nixon seemed eager to get off the phone with both Reagan and Bush, he spoke at times candidly with both men who would go on to become the 40 th and 41 st presidents.
"I just want you to know, we watched and my heart was with you," Reagan said. "I know what this must have been and what this must have been in all these days and what you've been through and I just want you to know that, for whatever it's worth… you can count on us, we're still behind you out here and I wanted you to know that you're in our prayers."
Nixon thanked Reagan and said, "Each of us has a different religion…but God damn it, Ron, we have got to build peace in the world. And that's what I'm working on here."
"I so appreciate your calling and give my greatest love to Nancy. How did you ever marry such a pretty girl? Good God!" Nixon said.
Reagan laughed and called himself lucky.
Nixon then asked Reagan his opinion of the speech, telling him he "had to say it."
"I know how difficult it was and I know what it must be with the fellas having to do what they did," Reagan said, most likely referring to top White House staffers and close Nixon aides Haldeman and Ehrlichman, who had resigned earlier in the day.
"That's right, they had to get out," Nixon said.
The conversation ended with Reagan telling Nixon, "This too shall pass."
"Everything passes," Nixon said.
When George H.W. Bush called, he told Nixon he had been trying to get through to the president earlier, but Nixon said he had "been on the phone, George, all night."
Bush told Nixon he watched the speech with his wife Barbara and they had "just attended a Republican leadership conference."
"I really was proud of you and, by golly, I know it was tough and I just wanted to tell you that," Bush said. "Because to me it came through clearly and forcefully and it conveyed the depth of feeling that I know you must have had…. I just wanted to tell you that before I went to sleep."
Nixon assured Bush, "The main thing is, you had nothing to do with this goddamn thing. We're gonna go on."
Bush told Nixon to call him for any support and angrily called the political commentators "arrogant bastards."
"The thing that burns me up is the feeling that you had and it came through and there's so little credit," Bush told Nixon, who replied he thinks "the people may understand it" and "to hell with the commentators."
"This is gonna come through good," Bush assured Nixon, who then thanked him, calling Bush "boy" affectionately.
Hughes said the recordings show a "real glimpse of the man at one of his lowest moments of his life."
"It's very easy to empathize with him at that moment," Hughes said. "I think it's pretty obvious that Nixon has been drinking, everyone can listen and make up their minds about that, but at the same you hear the president is very down, but you hear that he is going to keep on fighting. He's still feisty."
He said once the existence of the tapes were revealed in July of 1973 it "was the beginning of the end for Nixon."
The tapes also include a conversation between Nixon and press secretary Ronald Ziegler in which despite the scandal enveloping the administration in July 1973, he tells Nixon, "From the standpoint the way the Watergate story is breaking, it's breaking very well."
The tapes also include conversations between Nixon and Soviet leader Leonid Brezhnev talking in the Oval Office before a historic seven-day summit in June 1973.
"If we decide to work together, we can change the world," Nixon told Brezhnev.
The tapes were released at the Nixon Presidential Library and Museum in Yorba Linda, Calif., as well as on their website. The last recording was made on July 12, 1973.
Alexander Haig, Nixon's chief of staff, turned off the recordings after their existence was made public to the U.S. Senate Watergate Committee by Nixon aide Alexander Butterfield on July 16, 1973.
Nixon resigned from office on August 8, 1974.
ABC News' Sarah Netter, Claire Brinberg and Maria Nikias contributed to this report.