5 Surprising Things About Janet Yellen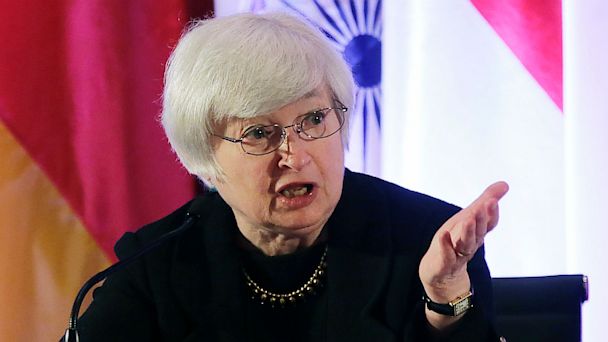 President Obama will nominate Janet Yellen today to take over as chair of the Federal Reserve, the first time a woman has been picked to head a major central bank anywhere in the world.
Here are five things to know about Yellen, 67.
1. Finding a Baby Sitter Led Her to a Theory on Labor
In the 1980s while she and her husband economist George A. Akerlof were professors at UC Berkeley, they were looking for a baby sitter and along the way discovered a theory on what motivates people to take jobs. They found that employers are willing to fire people rather than cut wages in a tough economy because employees, even baby sitters, would rather be unemployed than underpaid.
2. She's a Bit of a Dork You might expect the chair of the Federal Reserve to be something of a nerd. And you'd be right. As a senior at Fort Hamilton High School in Brooklyn, N.Y., in 1963, the editor of the school paper was expected to interview the class valedictorian. Yellen was both, so she interviewed herself. When she asked herself if she enjoyed working at the paper, "The Pilot," the 18-year-old who would go on to study economics at Pembroke College, quipped, "No comment."
3. She'll be the First Democrat to Helm the Fed in 30 years Yellen was appointed to the Fed's board of governors by Bill Clinton in 1993. She was tapped by President Obama after it became clear his first pick, former Harvard University President Larry Summers, would not get confirmed. Liberal central bankers, however, tend to be more conservative than liberal politicians, and many expect Yellen to continue the monetary policies of her predecessor Ben Bernanke.
4. She's a "Dove" Much of Yellen's academic research was on the cost and causes of unemployment. She has a reputation for being a "dove," someone who believes keeping interest rates low will reduce unemployment, rather than raising them to combat inflation. "These are not just statistics to me. We know that long-term unemployment is devastating to workers and their families," she said in a speech to the AFL-CIO labor union in February.
5. Economics Is a Family Business Yellen met husband George A. Akerlof in the Fed cafeteria in 1977, and they married the following June. Akerlof won the Nobel Prize for Economics in 2001. They have a son, Robert Akerlof, an economics professor at the University of Warwick in England.