Hillary Clinton Jokingly Mulls 'Bossy Pantsuit' for New Book Title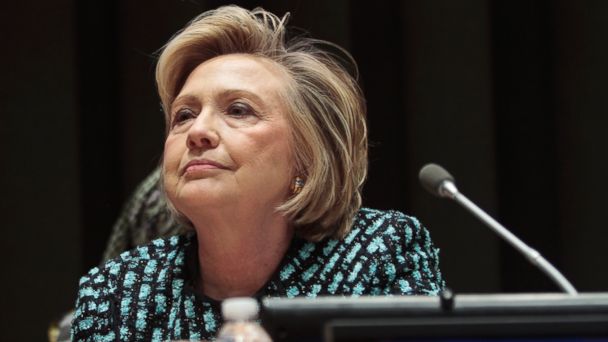 A lively Hillary Clinton revealed details today on her upcoming memoir in regards to her experiences at the State Department - jokingly telling a crowd of publishers in New York City it would be "just another light summer read" with the funny title "Bossy Pantsuit."
Clinton said the book would discuss many of the challenges the United States faces in the 21st century, including the crisis in Crimea and Climate Change.
But the former Secretary of State added that she's yet to decide on a name for the book - due to come out on June 1 - but admitted that she's even taken to the Internet for ideas.
"Now I'm still mulling over various titles," she said to the crowd of more than 400 at the annual Association of American Publishers event. "But helpfully about a year ago the Washington Post asked readers to send in suggestions."
Clinton, who has previously written four other books, proceeded to name off some of her favorites.
"For example," she said, inciting laughter from the audience of more than 400 people before even revealing them. "One possibility was 'It Takes A World,' - a fitting sequel to 'It Takes A Village.'
Another plays off my love of all things Tina Fey: 'Bossy Pantsuit.'"
But Clinton quickly shot down the idea, saying "we can no longer say one of those words" - referring to Sheryl Sandberg's new female-empowerment campaign to "Ban Bossy."
Other options included 'Scrunchy Chronicles' and '112 Countries and It is Still All About My Hair' - the latter of which Clinton sarcastically adding was on the 'short list.'
Clinton, who has weighed in recently on the situation in Crimea and even drawing criticism for comparing Russian President Vladimir Putin's actions to those of Hitler's in the 1930's - said her new book will deal with challenges in the region.
"It's about my experiences in the State Department," she said. "Our rapidly changing and increasingly interdependent world, and the challenges facing us in the 21st century from Crimea to climate change."