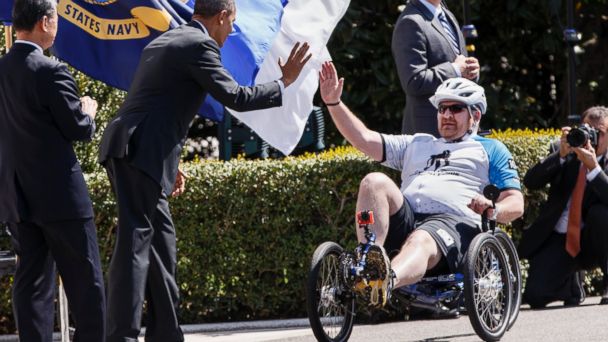 President Obama welcomed Wounded Warriors on their Ride to the White House today calling the participants "an incredible inspiration to me and to our country."
"Biking nearly 60 miles in three days would be a challenge for anybody, but for all of you, this is a lot more than a bike ride. This is a mark of how far you've come," Obama said to the audience of service members and their families.
"Many of you are recovering from devastating injuries," he said. "Some of you have had to learn the basics all over again, how to stand again, how to walk again, how to run again. And now you're here today because that's what Soldiers Ride is all about, seeing each other through the finish line."
The White House says the event, which is going on its seventhyear, is about encouraging awareness of wounded service members and applauding their service.
Dozens participated in the event that lasts a total of four days.
Obama commented on the soldiers "courage, your resolve, your resilience, your tenacity, your optimism." Adding, "it makes me proud to be your commander-in-chief."
"Every day I have the honor of serving as this country's commander-in-chief. And as long as I have that honor, I will keep fighting to make sure you and your families get the care and treatment and benefits that you have earned and deserve," he said.
"And it's especially now, as we're winding down the war in Afghanistan after having ended over a decade of war, that we are standing up for you. Our obligations to our veterans endure for your entire lives," Obama said. "That's our mission. That's why we're here, not just during this ride but all year long."
Vice President Biden joined Obama for his speech and the two men high-fived riders as they completed a few loops around the South Lawn before beginning the next 17-mile leg of their journey.
Just last week first lady Michelle Obama along with former Sen. Elizabeth Dole, Dr. Jill Biden, and former first lady Rosalynn Carter announced a new program for caregivers of veterans and active service members.