Image credit: Herve Grison/Mattel
It's not easy finding the best gift for the woman in your life. Sure, you could go the jewelry or handbag route, but you could also get her a tech or gadget gift that's both fun and useful.
Don't get us wrong. These are great gifts for either sex - we'll cover gifts for guys very soon - but if you are still looking for a great high-tech gift for a lovely lady we'd highly suggest one of these.
FitBit Zip
This is for the woman you know who is either a fitness buff or looking to get into better shape. The FitBit Zip is a high-tech pedometer of sorts. It tracks your steps, miles walked or run, and shows you your activity level with a cute little graphic on the device's LCD screen. You can monitor how you are doing through the day on that screen, and it also pairs with your phone via Bluetooth so you can see it all and your history in an app. The app lets you log your food intake and see your progress. It comes in a number of different colors and, even better, the weight you lose won't all be from your wallet. ($59.95, FitBit)
iPad Mini
We've already recommended the iPad Mini as one of the best tablets you can buy, but it really is a perfect tablet for the woman on the go. The 7.9-inch screen makes it easier to hold up and it fits more nicely in a purse than the larger iPad. You should check out our full review, but we'll remind you of its strengths - it is fast, has two cameras and runs all the iPad's apps. It's also cheaper.($329, Apple)
Swypegear Gloves
Uh, why are gloves on a tech list? Well, these aren't just any gloves. All ten fingertips on Swypegear gloves have special conductive yarn that lets you navigate a touch screen without taking them off or wearing those fingerless gloves. There are many touchscreen-capable gloves out there, but most restrict you to one or two fingertips. These also come in an assortment of fun colors. ($22.00, Fab)
Jawbone Jambox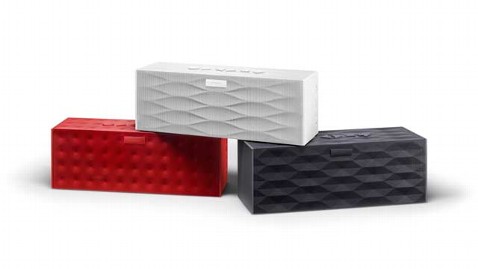 Wired speakers are so 2000. Jawbone's Jambox is a Bluetooth speaker that lets you stream music from your smartphone (any smartphone with Bluetooth) and tablet to the little speaker. But don't be fooled by its size. Whether you get the $199 Jambox or the $299 Big Jambox you won't be disappointed by the sound - the bigger version does kick out louder and fuller sound, but the small one is seriously impressive for its size. This also makes a great kitchen companion - pair the speaker with your device, turn up the Carly Rae Jepsen (or whatever you listen to when cooking) and enjoy the food and sound. The small one is also a great beach companion. (Starts at $199, Jawbone)
Powerstick
This is for the woman who is constantly looking for an outlet or carrying around her phone charger. The Powerstick is just that - a stick with power for your phone. One end is a USB port for charging the Powerstick through your computer. The other has an adapter plug for connecting it to your phone. It comes with three connectors: the original iPhone, Mini and MicroUSB connectors. Also included is the new Universal Adapter that allows you to connect with any cord that has a USB port. It comes in a variety of colors and you can add 2GB to 8GB of storage so you can save files and photos on it as well. ($49.99, Powerstick)
Check out our Holiday Gadget Guides.