A day after the Washington, Ill., High School football team scored a state quarterfinals victory that lifted them into the semis for the first time since 1985, so long ago that players on that squad now have sons on this team, disaster struck this small town.
When a massive tornado ripped through Sunday, destroying dozens of homes and ravaging the tight-knit town, the team's biggest success in 28 years was suddenly overshadowed, the first 12-0 record in school history, forgotten.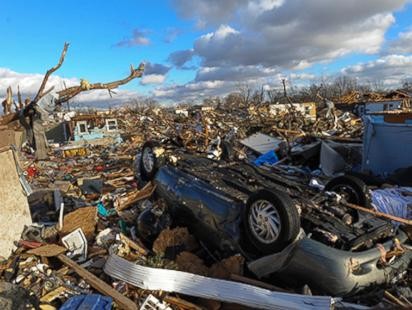 Among those who lost their homes in the devastating tornado were coaches and players.
Senior quarterback Colton Marshall rushed home from work Sunday to meet up with his family that had taken shelter in the basement. They, fortunately, were fine. Their home was not.
"It took my house down," Marshall said. "Me and about eight or nine other guys on the team -- it took our houses completely away. It's devastating to us and the rest of our community."
Tornadoes' Trail: Houses Turned to Rubble, Lives Shattered
The team finally returned to the gridiron on Tuesday, traveling to Illinois State University for practice after the school donated its stadium.
"Just the fact that we were able to get them together and get some normalcy back as far as routine-wise -- you saw some kids, you know, laugh, smile, have some fun today," said head coach Darrell Crouch.
It was a welcome relief for players like Marshall.
"For me it's great to get my mind off of things," the quarterback said.
While the Panthers will be heavy underdogs when they travel to Springfield on Saturday to face top-seeded Sacred Heart-Griffin, Marshall said the tornado is not taking their eyes off the prize.
"We've got a goal and the goal was set far before this happened so we're going to carry it out," he said.
Town residents like Toby Hibbard, even as he sorts through the wreckage of his home, are eagerly looking forward to the semifinal showdown.
"I'm sure the boys are all going to be ready and it'll bring the town even closer together," Hibbard said.
The game is even on the mind of Washington mayor Gary Manier.
"I hope when they come back with a victory and when they enter back into these city limits we're going to make some noise and have something to celebrate in the midst of all this," he said.
"Life has to go on," he noted. "We have to get some normality back to this community."
How 'Perfect Storm' Led to Weekend's Deadly Twisters
Even their rivals are helping out. Sacred Heart-Griffin is set to pay for buses to take Panther fans from Washington to the game in Springfield -- a chance for players, coaches, and fans to forget about the devastation and focus on football.
"If we make it to finals," Washington athletic director Herb Knoblauch said, "it'll be amazing for our school, our community."
A community that could sorely use a reason to celebrate, now more than ever.