— -- The wife of the former police captain accused of fatally shooting a man in a Florida movie theater testified in court Wednesday in a hearing that will determine if his claim of self-defense meets the criteria under Florida's Stand Your Ground law.
Curtis Reeves, 74, is accused of shooting and killing 43-year-old Chad Oulson on Jan. 13, 2014, during a confrontation over texting before a showing of "Lone Survivor" at a movie theater in Wesley Chapel, police said.
If Circuit Court Judge Susan Barthle rules in favor of Reeves, he will receive immunity from prosecution and will leave court as a free man with no criminal murder charges.
Should Barthle decide Reeves did not meet the criteria to "stand his ground" during the encounter with Oulson, he will proceed to a criminal trial at a later date, where he can claim self-defense in the shooting but will not be able to utilize the protection under the Stand Your Ground law.
Prosecutors say Reeves provoked the confrontation, The Associated Press reported, meaning he wouldn't be protected by the Stand Your Ground law.
Reeves has been present for the hearings, which began Monday and will run through March 3.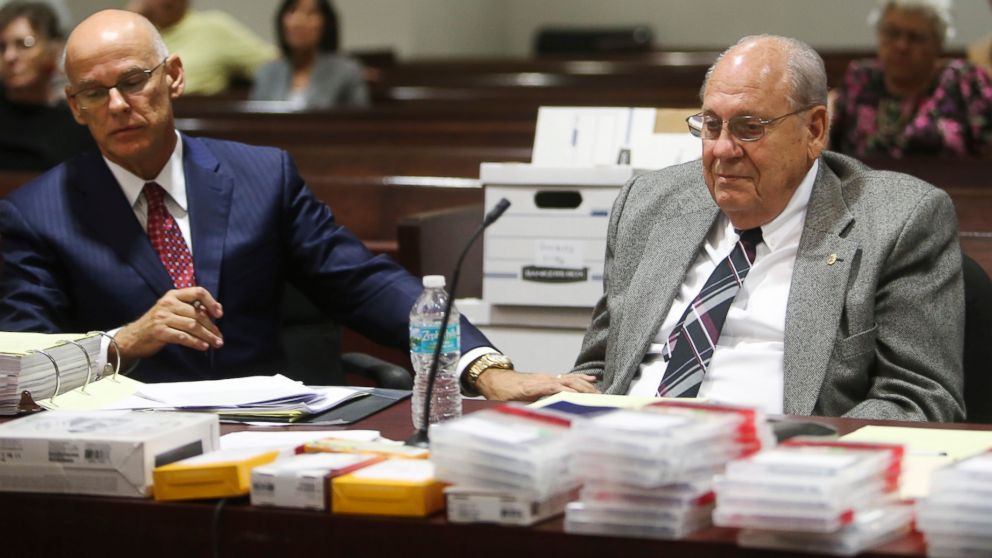 Curtis Reeves' wife, Vivian Reeves, testified in a Dade City courtroom Wednesday that she and her husband had made a "spur-of-the-minute" decision to see the movie with their son, Matt, because he had read the book of the same title. They chose a matinee showing since it was "cheaper," she said.
After the family bought popcorn and a drink at the concessions stands and used the restroom, they entered the theater, where Vivian Reeves said she noticed Oulson with his phone out and the screen lit. Oulson, who was sitting directly in front of her, was not talking on the phone, she said, and the previews had not yet started.
After a message instructing viewers to turn off their cellphones came on, Vivian Reeves said she saw her husband leaning toward Oulson, who was "very loud" as he was speaking to Reeves. She said he heard him use the word "f---" or "f---ing" and said something about texting his daughter.
"It scared me," she said of the initial encounter between Oulson and her husband. "I was horrified that somebody would act like that, especially in a movie theater."
Her husband then told her, "I'm going to get the manager," she said. When he returned, she handed him the popcorn and he sat down, she said.
At this point, the previews were on and the theater lights dimmed, and Oulson and Curtis Reeves interacted again, Vivian Reeves said, adding that she didn't "know who spoke first." She saw her husband leaning toward Oulson, but said she couldn't hear what he said. Then, she said, Oulson spoke in a raised voice again.
"You told on me," Oulson told Curtis Reeves, according to his wife. "Who the f--- do you think you are?"
Before Oulson was shot, she said he was leaning toward them, and it appeared that he was going to go over the seat toward them.
"It happened very quickly, and his whole upper body just came forward, and I thought that he was coming over," she said.
After she heard the shots go off, her husband said to her, "He hit me in the face," she said.
"I just didn't know what happened," she said.
Curtis Reeves then sat down and put his hands on his head before an off-duty sheriff's deputy approached him and took the gun out of his lap, Vivian Reeves said.
"I said something to Curtis," Vivian Reeves recalled. "I said, 'What happened?' You can't shoot into a theater full of people.' He said, 'Not now.'"
Vivian Reeves said her husband never brought his police work home and that she couldn't recall his ever losing his temper with her, adding that she didn't see him showing violence or aggression to her or others.
When asked by Curtis Reeves' defense attorney if he missed the "action" after retiring from the Tampa Police Department, Vivian Reeves replied, "No."
The couple has been married for 49 years, ABC Tampa affiliate WFTS reported.
Witness Joanna Turner, who was in the Cobb Grove 16 theater during the shooting, testified Tuesday that she heard Oulson say, "I'm texting my daughter," before she saw a muzzle flash.
Curtis Reeves then put the gun in his lap and put his hands on the side of his head after Oulson had collapsed, Turner said.
Turner also testified that police never instructed witnesses not to talk to each other. Curtis Reeves' defense team alleges that the witnesses talked after the shooting, corrupting their accounts of what happened.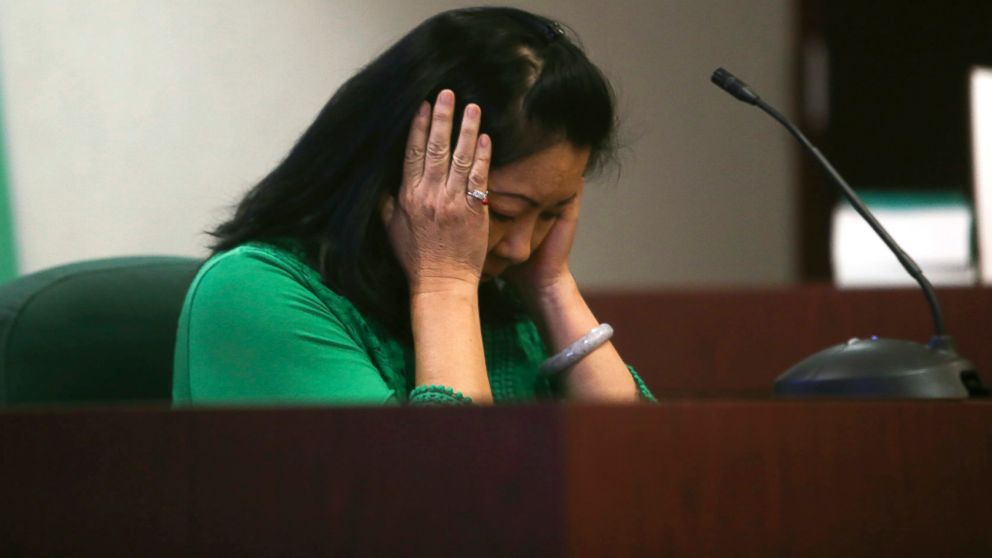 Prior to the shooting, Curtis Reeves had complained about Oulson's use of his phone to movie theater employees, authorities said at the time. When Curtis Reeves returned to the theater, the argument escalated.
Witnesses told police that Oulson threw a container of popcorn at Curtis Reeves before he was shot, police said. His widow, Nicole Oulson, was also shot in the hand. She told ABC News in 2014 that her husband was texting the babysitter, who was watching their young daughter.
"It was a couple of words. No threats. No harm. No nothing," Nicole Oulson said in 2014. "In the blink of an eye, 30 seconds, it just shattered my world."
Bond was initially denied for Curtis Reeves, but he was freed in July 2014 after spending six months in a Pasco County jail and posting a $150,000 bail, the Tampa Bay Times reported.
Curtis Reeves has pleaded not guilty to second-degree murder, claiming self-defense.