Located a good half hour's drive east of the Sunset Strip, Phil Spector's home really was his castle: a 35-room mansion known as the Pyrenees Castle atop an Alhambra, Calif., hill.
But it is also a mausoleum, reflecting a career in which he produced hits like "Be My Baby," "Then He Kissed Me" and more wall-of-sound classics in the '60s, only to spend much of the next four decades in search of a second act.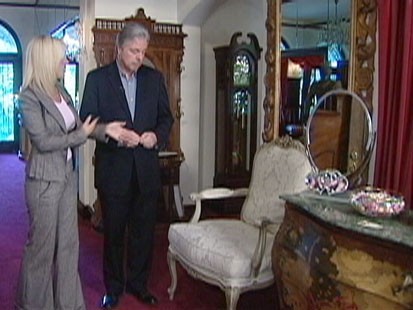 Phil Spector's home is full of rock memorabilia, such as that from his early '70s work with George Harrison, with whom he made the huge hit "My Sweet Lord."
In her first national-media interview since the trial, Spector's 29-year-old wife Rachelle spoke to ABC News' Chris Connelly about her husband's legacy.
"[Spector] said George was very shy and very insecure about himself," said Rachelle. "And once he built up George's confidence to finish the album, I mean obviously, it's a masterpiece."
Old-school speakers line the walls of their home, throwbacks to an earlier era and Spector's hedyay. "That's what he likes. That's what he loves," said Rachelle.
Even the jukebox in Phil Spector's game room is filled with old-school vinyl no less historic than the images on the glory wall in the bar.
When Rachelle is asked about her husband's 40 years of rock and roll history -- which included pioneering the "wall of sound" production technique -- she says she feels "just amazement at what he was able to achieve. And at such a young age when he started. I mean he was a millionaire by 21, a multimillionaire by 25."
CLICK HERE to see photos of Rachelle and Phil Spector through the years.
Spector's 'Castle' Full of Memorabilia from Beatles John, George and More
Spector was also enough of a cultural icon to make his own appearances on the pop landscape. He played a hit maker on the 60's TV sitcom "I Dream of Jeannie" and a drug dealer in the stoner epic "Easy Rider."
Now, his signature "S"-shaped ring are on the hand of his wife, who has his Rolls Royce too.
"I also have been wearing his wedding band because they confiscated all of his clothing and articles and possessions. So he's not allowed to accessorize much in jail these days," said Rachelle.
In its own room is one of Spector's most prized possessions -- a white piano. It's a perfect replica of the one used by John Lennon on "Imagine," which was also produced by Phil Spector.
"They were like brothers," Rachelle said of her husband's relationship with John Lennon.
Yet this brotherly collaboration would mark Phil Spector's last big hit as a producer.
There are no guarantees that Phil Spector will ever see his house again. And for one 40-year-old actress, its foyer was the last thing she ever saw.
Lana Clarkson was a still-striking blonde with a SAG card and sagging hopes of making it big in Hollywood. She was working as a hostess at the House of Blues on Feb. 3, 2003, the night she met Phil Spector and went home with him.
Hours later, her lifeless body was found sitting in a chair -- dead from a single gunshot to the mouth. Phil Spector was convicted of firing the gun that killed her. Prosecutors said the shooting fit Spector's long pattern of intimidating gun play with women.
Click here to watch video of the investigation into Clarkson's final hours.
The April 2009 verdict came at the end of a legal ordeal that continues to enrage Rachelle Spector.
"Honestly? It sucked. It was awful and the people are really mean and nasty and negative. They didn't look for anything suicidal, anything accidental, anything in Lana Clarkson's past that would have pointed to her putting a gun in her own mouth and shooting herself," Rachelle said.
She demonstrated for ABC News what she thought happened on that fateful February 2003 night.
Standing by Her Man, Rachelle Spector Says Gun Probably 'Went Off Accidentally'
She asked ABC News correspondent Chris Connelly to participate in a re-enactment.
After finding out Connelly is 5 feet 11 inches, she asked, "Now are you gonna let somebody walk up to you, just like this, 'cause you're about Lana Clarkson's size, and put a gun all the way in your mouth and not do anything? You're just gonna sit there like that?" Rachelle said.
"What I think happened is she was sitting in the chair and she was holding the gun," she said. "She put the gun in her mouth. She was maybe doing something sexually oriented with it. I don't know. But it went off accidently and unfortunately it was a permanent circumstance that you couldn't say whoops, I shouldn't have done that."
When asked where Phil was when all this was going on, Rachelle says she doesn't know.
Phil Spector has never told his wife what happened that night, and she's never asked him to.
Rachelle says she doesn't know when her husband will tell his side of the story. When asked if she wants him to, she admits, "at some point I think that would be a good idea."
Rachelle still hopes that her husband will come back to his castle, where the lady of the house is now taking care of business.
These two also have some unfinished business. Remember Rachelle's singing career? Before his incarceration, Spector once again donned his producer's cap and cut three new songs with Rachelle on vocals.
"So I am just really excited to release these songs because I want people to see that my husband is just so way beyond his years," Rachelle said. "Like I said, he said it's all about timing."