Petraeus decorated Gant with a Joint Service Commendation Medal -- which Gant pinned on Sitting Bull the next day, telling his friend, "Without you, there is no me."
"Jim had become more Pashtun than the Pashtuns," Tyson wrote in her book.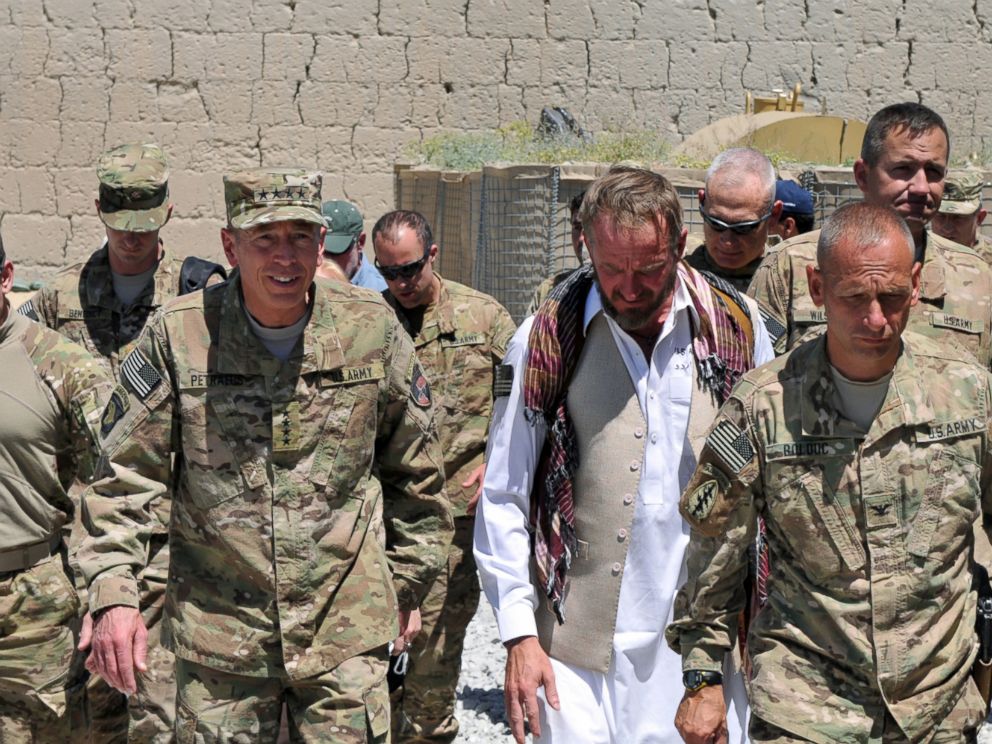 Tyson too dressed in tribal clothing made for her by local seamstresses. To show the tribe how much he trusted them, the American couple took walks together into Mangwel, where Tyson became friendly with the tribe's women and children, invited into private areas where men did not go. Sitting Bull treated Tyson like a daughter, she wrote.
Gant taught Tyson how to fire all of the weapons used by Special Forces and kept a spare pistol in his guntruck in case she needed it in a fight.
Tyson knew most of the visiting VIPs well from her long stint at the Washington Post, a job she quit to join Gant and write the book, and said she had to keep her presence in Gant's combat "qalat" secret. News media "embeds" in Afghanistan with Special Operations forces rarely exceed a few days and she was not authorized by any task force to be in the Mangwel operation – much less for nine months.
"I stayed out of the picture," she said in the ABC News interview with Gant in Seattle. "We didn't want my presence there to be widely known, but at the same time a lot of people knew about it... I was glad for the opportunity to help the man I had fallen in love with, as well as to write about a potential solution to the incredible suffering I had witnessed over a decade almost."
His commanders, who rotated in and out of Afghanistan while Gant stayed, have insisted that they were unaware Tyson was living in Mangwel for almost a year, military sources said. Other Special Forces sources in Afghanistan noted that drones were over Gant's team during firefights or key leader engagements with the tribes and that it was well known "Gant was living with someone out there he called his wife," one of the sources told ABC News.
As Tyson mingled with tribes in several villages, the Taliban discussed her presence in radio chatter, the couple claims. It is unlikely Pashtun villagers would have kept it a secret from the insurgents in the area.
Gant's young soldiers apparently had no objection to their commander sharing his conex hut with his lover. Six from his team, all active-duty soldiers, regularly attend reunions near Seattle with Gant and Tyson and several told ABC News they wouldn't hesitate to return to Afghanistan with their dishonored leader, who they still idolize.
As good as he was at juggling tribal politics, Gant wasn't as talented with his "SF" brethren, who had become increasingly cautious and risk-averse over the course of the long war.