A House hearing became a sea of stony faces, grimaces and shielded eyes Wednesday as attendees were played 10 minutes of harrowing video footage showing a United Arab Emirates sheik brutally torturing an Afghan grain dealer and others.
Clips from the video, first obtained by ABC News, formed the basis of a Nightline report three weeks ago, which has sparked international concern, and threatens to upset delicate negotiations over U.S.-UAE nuclear cooperation.
"I can't describe the horror and revulsion I felt" when first watching the video, said Rep. James McGovern (D-MA), chairman of the Tom Lantos Human Rights Commission, which held the hearing. McGovern blasted the UAE's "culture of impunity" which permitted the royal, Sheik Issa bin Zayed Al Nahyan, to commit such violent acts without apparent concern of facing prosecution.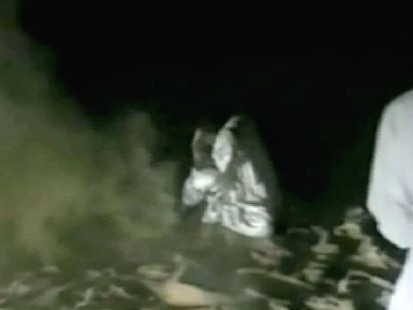 As witnesses noted, the UAE initially declined to detain or
prosecute
Sheik Issa, even after viewing the tapes, which were shot in 2004. Nor did it investigate uniformed officials who appear on the tape, aiding Issa as he beat, shocked, bloodied, burned and drove over his victims.
McGovern praised ABC for bringing the tape to public notice. "If it wasn't for this videotape," Sheik Issa's shocking practices "would have gone unnoticed," the lawmaker said. "And shame on us for not bringing something like this to light."
Samer Muscati, of the nonpartisan group Human Rights Watch, testified that Sheik Issa's actions "were a clear violation of the UAE constitution" and international law. "The UAE government has known [about the torture tapes] for years, and sat on its hands," Muscati said. Muscati called on UAE to probe not just Sheik Issa's actions, but to investigate how officials could have initially declined to take action against the sheik or officials on the videos.
Since the story aired, McGovern said, he has received information on several other similar cases of abuse, which he is investigating.
An Inconvenient Moment
The torture videos aired at an inconvenient moment for the UAE, as it is in what it hopes are the final stages of securing U.S. cooperation to build a nuclear power plant. That timing did not go unnoticed by lawmakers, including Rep. Donna Edwards (D-MD), who said that the U.S. must build a relationship on human rights before it takes on more delicate issues like nuclear cooperation.
Rep. Ed Markey (D-MA), in a statement released at the hearing, concurred. "A country where the laws can be flouted by the rich and powerful is not a country that can safeguard sensitive U.S. nuclear technology." McGovern has called on Secretary of State Hillary Clinton to "express the outrage of our country" to the UAE over the videotaped torture and its government's inaction.
The State Department has not commented on the matter, although several State officials were present at Wednesday's hearing , and viewed the 10-minute video in its entirety. Afterwards, asked of their thoughts on the hearing, one said, "it was interesting."
In a statement Tuesday, the UAE Embassy in Washington, D.C. said that it had detained Sheik Issa, suspended "those involved from their official duties," and "officially launched a criminal investigation into the events depicted on video." Rep. McGovern told ABC News that the UAE ambassador has told him the sheik was being held "at a police facility."