The University of Northern Iowa baseball team is down to its final outs. Not just for a game or for this season. Forever.
"It's tough," said player Ivan Lopez before a recent home game. "It just kind of almost leaves me with no hope in anything."
A victim of budget cuts, the school's 103-year-old baseball program has been eliminated. This month, the Panthers will play their final regular season game. These days, each pitch and every out is bittersweet.
"It's very, very disappointing, disheartening," said Panther head coach Rick Heller, who will soon be out of work. "We're going to be the last team to play here at Northern Iowa, and we want to go out the right way."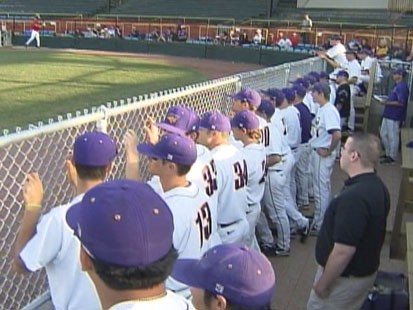 The team's players will be able to stay at UNI on scholarship, but many still want to play ball, and that means finding another baseball program willing to take a chance on a transfer student.
"It's basically like I graduated high school again, trying to get recruited," said starting catcher Jeff Taliaferro, who will be a senior next year. "Next year [at UNI] would have been a great year to try to come out on top and get drafted."
Cutting baseball, with its 35-player roster and large travel budget, will save UNI's sports program $400,000. Athletic director Troy Dannen said he faced a massive budget shortfall resulting from a decrease in state, corporate and alumni contributions. And with Title IX gender equity laws preventing him from cutting a women's program, Dannen said he was left with few options.
"I struggled with it every day leading up to it and every day since," said Dannen, who is in his first year as athletic director. "But I have a responsibility to 17, 18 sports and not just one."
But players and coaches feel baseball was cut for more than just budgetary reasons.
"We could have made that money. We could have fundraised. We could have done something to save our program," said Taliaferro. "But they never gave us a chance."
UNI baseball joins a growing list of sports programs at schools nationwide that have recently been eliminated. Men's track at Pepperdine University, wrestling at Portland State University and men's tennis at the University of Tennessee-Martin are just some of the programs that have been cut.
"In recent memory, this is the most difficult financial period for college athletics that we've seen," said Myles Brand, president of the National Collegiate Athletic Association.
Without a UNI baseball scholarship, Lopez would not have been able to afford college. He's now torn between staying at UNI and getting his degree, or leaving to continue pursuing his dreams of going pro.
"You just have to deal with it," said Lopez. "It's not going to be easy to bounce back from this."