About a year ago, Buffalo, N.Y., native John Gallivan did what a lot of Americans with mounting credit card debts are inclined to do -- he switched cards and transferred his balance, taking advantage of an introductory offer from another card company dangling zero percent interest for one year.
"Of course, I just realized that the new rate had kicked in," the 43-year-old Erie County sheriff's deputy said. "Now the APR is 15.9 percent. Time to look into another balance transfer offer."
Legions of consumers have spent the past decade "credit shopping" -- shifting often ever-larger balances to new cards to defer debt payments and avoid huge interest fees. Now, such "shoppers," many of whom have deferred their debts purely to stay afloat in a teetering economy, could soon find it harder and more expensive to transfer balances.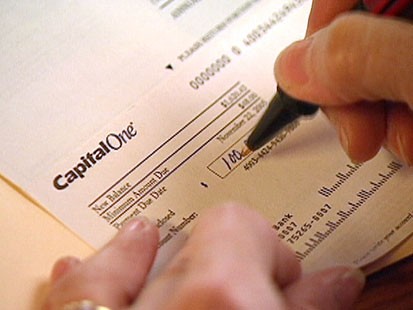 With a host of new legislatively mandated protections for credit card holders under the
Credit Card Act of 2009
set for February 2010, the banking industry is already curbing "zero percent interest" introductory rates, and, in some cases, hiking one-time balance transfer fees.
"The credit card roulette game has been around for a long time and many Americans have played it -- but the game is changing dramatically," says Bill Hardekopf, CEO of LowCards.com, an aggregator of credit card information geared toward consumers.
Hardekopf and other industry experts are noticing that one-time balance transfer fees, which used to be 1 to 2 percent, and in more recent years have been at around 3 percent, are going up: Bank of America has upped its one-time balance transfer fee from 3 to 4 percent while Chase has moved, in some cases, to 5 percent.
In addition, offers of zero percent rates for up to one year have in most cases over the past year been reduced to just six months.
Ben Woolsey, director of marketing and consumer research at Austin, Texas-based CreditCards.com, a Web site that compares credit cards, urges consumers to closely read the terms and conditions. "Issuers don't intentionally bait and switch, but they are allowed to advertise their best rate and use terms like 'as low as' and other caveats, so when you apply, always be careful -- the devil is in the details."
For example, some offers carry zero percent on balance transfers but higher rates for new purchases. In some cases, failing to use the card enough -- meeting minimum use requirements -- could trigger a cancellation or a higher rate.
"I think where we're heading is that the new introductory rates are no longer going to be zero," Hardekopf says. "You'll start to see them start at 3 or 4 or 5 percent."
Some other things to always keep in mind when playing the balance transfer game:
The zero percent introductory rate only lasts for a set period, usually six to nine months, and then the standard APR kicks in, often much higher and based on individual credit scores.
Be mindful of the distinction between zero percent interest on balance transfers vs. zero interest on future purchases -- some cards offer one or the other, while some offer both. Citi Platinum Select MasterCard, for example, offers zero percent rate on balance transfers and purchases for six months, while Discover More Card-American Flag offers zero percent on purchases for six months and zero percent on balance transfers for 12 months.
The one-time fees involved with balance transfers -- most still seem to be 3 percent of the amount transferred -- often were once capped at $50 or $75, but more recently, such caps have been eliminated, which can hurt when large balances, of, say, $10,000 or more, are being transferred.
The biggest risk: If you make a late payment, or go over your credit limit, you can lose the zero percent introductory rate.
The tighter rules come after a time when card issuers have been profiting handsomely on credit cards. Between 1990 and 2004, credit card companies saw their fee revenue, per $100 of credit card assets, increase from $11.71 to $16.01, according to a GAO study done in 2006, a rise of 37 percent.
Scott Talbott, senior v.p. for government affairs at the Financial Services Roundtable, a banking, insurance and securities industry lobbying group, said that the major banks-issuers his group represents (including Citigroup, J.P. Morgan Chase, Wells Fargo, Bank of America and Capital One) have indicated to him that fewer credit solicitations are being made in general, including balance transfer offers, a direct result of the recession.
As far as rising balance transfer fees, Talbott says the industry for the most part seems to be sticking with the 3 percent standard but "some are considering increasing those fees."
So it pays to shop for the best rates. There are plenty of sites on the Web where you can compare rates, including Bank Rate Monitor and Lowcards.com.
And remember that your credit rating is crucial to playing the card-shopping game. For tips on how to help turn your score around, click here.