When Notre Dame in 2005 signed its football coach Charlie Weis to a new decade-long deal, the coach's agent Bob LaMonte said, "Charlie Weis doesn't own the Golden Dome, but he has the keys to it for the next 11 years."
Fast forward to this week, when Weis was fired after four straight losses left the Fighting Irish with a 6-6 record.
Now the most valuable college football team in the country will have to pay big bucks to boot its coach out the door.
The Sporting News reported this month that the school must pay Weis $18 million and another $2 million to buy out his assistants. The Indianapolis Business Journal – tacking on another $25 million to hire Weis' eventual replacement – said the firing will cost the school a total of $45 million.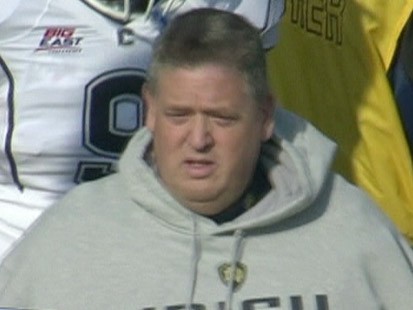 Notre Dame does not comment on the specifics of employee salaries, according to a spokesman.
Putting new locks on the Golden Dome, it seems, won't come cheap.
With the nation suffering through its worst economic downturn since the Great Depression, the big paydays for Weis and other college sports coaches have some critics calling for the country to address increasingly pronounced pay disparities.
"Compensation at the upper levels has gotten way out of hand," said Peter Morici, professor at the University of Maryland's Smith School of Business. "It's something that we need to take a hard look at because it's creating disparities in our society that are not justifiable or necessary to get the performance we need."
A spokesman for Notre Dame said that the money for Weis' buyout comes from a reserve fund for "athletic contingencies" and will not come from "general University resources."
Any financial obligation related to Coach Weis will be met through athletics-related resources and will have absolutely no bearing or impact on the academic mission of the university, whether that involves students, financial aid, faculty and staff, or other programs and people on campus," said Dennis Brown, university spokesman.
Notre Dame is hardly alone in paying big bucks to get rid of its coach.
Just this week, the University of Virginia fired coach Al Groh, paying him $4.3 million not to lead the football team for the next two years. Groh won just three games this year. Last year the University of Tennessee had to pay coach Phillip Fulmer a $6 million buyout after signing him to a lengthy contract extension earlier that year.
The dollar signs aren't just swirling on the gridiron either. When the University of Kentucky canned basketball coach Billy Gillespie this year, the perennial hoops power paid him a $3 million to go.
With the country facing its highest jobless rate in more than a quarter of a century, huge pay-days on Wall Street have incited outrage among Americans on Main Street.
Unlike Wall Street, the country's universities did not play a role in causing the current economic crisis, nor did they receive government bailout money. But should colleges be paying eight-figure buyouts at a time when average college prices increased increased 4.4 percent from last year at private schools and 6.5 percent at public schools?
"As much as it may upset people in academia, there are a lot of people who can teach freshman English, but not a lot that can coach a team to a bowl appearance," said Mark Yost, author of the book "Varsity Green: A Behind the Scenes Look at Culture and Corruption in College Athletics." "It's a simple matter of supply and demand."
"As long as these athletic programs continue to sort of self-finance themselves, with large media contracts and apparel contracts, and shoe contracts," Yost pointed out, "college programs will continue to look for coaches that rack up winning records and alumni money and endorsement money."
If any school has excelled at self-financing, it's Notre Dame. The school boasts the 13th-largest endowment in the country – the largest of any Catholic university – but the athletic program has raked in big bucks, too. Thanks to long-term deals with NBC Sports and adidas, among others, the Fighting Irish are the most valuable college football team in the country, worth a whopping $101 million, according to a 2007 survey by Forbes.
"This doesn't mean that we have money to burn, but at the same time, the football program is self-supporting – and then some," Notre Dame's Brown said.
But the university and the athletic department are not separate entities – the department operates under the school's umbrella and, as a result, a greater portion of the profits from sports programs are retained by the school for academic use. In the 2006-2007 season, the football team contributed $21 million to academics, as much as the next five most valuable college teams on the Forbes list contributed to their respective schools combined.
Still, some critics are none too pleased to see such massive paydays in college sports when the nation continues to hemorrhage jobs, shedding over 7.3 million since the recession started in January 2008.
"Compensation is way out of line in many businesses across America and it's contributing to our economic problems," Morici said. "But until the president is willing to take on Wall Street, college football isn't getting fixed, nor are any other businesses."
Last summer President Obama appointed a pay czar to crack down on executive pay at bailed-out companies such as insurance giant AIG, but Morici said compensation across the board – not just at one company or one college football program – should be put under the microscope.
"Everybody has to sit down at the same time," he said. "It's like Wall Street- limiting pay at AIG because the government owns the place right now means their executives want to leave. You've got to reform the whole system – you can't reform one institution."