Timeless romantic comedies like "When Harry Met Sally," "Sleepless in Seattle," "You've Got Mail" and intense biopics like "Heartburn" and "Silkwood" are the creations of writer-director Nora Ephron.
Ephron was nominated three times for an Oscar for Best Writing, Screenplay for "Sleepless in Seattle," "When Harry Met Sally" and "Silkwood." In her new movie, "Julie & Julia," Ephron combines her talent for romantic comedy with her art for weaving personal biopics.
"I was very lucky because I had two true stories," she explained in an interview with ABC News Now's "Popcorn With Peter Travers". "One was Julie Powell (played by Amy Adams) who was a cubical worker in a post 9-11 business who was turning 30 and decided to cook all 542 recipes in the famous Julia Child cookbook 'Mastering the Art of French Cooking' in a single year and wrote a blog about it."
The second was based on "My Life in France," the memoir by Julia Child (played by Meryl Streep). The latter is a story about a very tall American woman who lived in France between 1948 and 1954 and became the American grande dame of French cooking.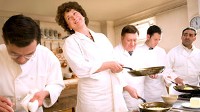 ©2009 Columbia TriStar Marketing Group, Inc.
"Meryl said I'm going to be 6 feet and 2 inches tall in this movie and I said you've got to be kidding," recalled Ephron. Streep believed in order to understand who Julia Child was, one had to see what it was like to be a woman her size in the 1940s and 50s, especially in France. One of Julia Child's editors described her to Ephron as "a Christmas tree – she was huge and twinkled. She looked nothing like anyone."
Ephron and her team gave Streep her stature using mundane techniques like filming her in a miniature kitchen. Julia Child's kitchen in Paris was "a kitchen for pygmies and we replicated it in the movie. She (Streep) is tall in the movie. She's gigantic," said Ephron proudly.
Directing an actress as nauturally talented as Streep is not easy. "It's really really hard," Ephron said, because "she acts so instinctively," But in reality Ephron says, "she's so prepared. We had our read-through and she came in her wig and 40s suit and everyone was in their jeans. She works so hard. She's so committed. I'm sure that's true in everything she does."
The Story Behind 'Julie & Julia'
Streep and Ephron's collaboration stretches back decades. Streep starred in "Heartburn," which is based on Ephron's troubled second marriage to journalist Carl Bernstein and his affair with Margaret Jay. Streep, according to Ephron, "was better at me than I was – an upsetting aspect of being played by Meryl."
Her three marriages were all to writers: Dan Greenburg, Bernstein and now Nicholas Pileggi, whom she has been with for twenty-six years. "I always wanted to marry writers, "she smiled, "it's a romantic idea … especially journalists. Maybe I watched too much Brenda Starr and Superman."
Ephron's fan base is comprised mainly of women and "older men." "Older men are over 25, which is one of my favorite things about marketing movies," she said with a smile. "My movies never tested well with younger men which was a testament to my life!"
Ephron, who wrote, directed and produced "Julie & Julia," is an accomplished cook. "There is no nibbling in this movie!" she emphasized, "People really had to eat … you have to behave as if every detail is crucial." Food plays a central role in her life. She recalled how her mother sent her all her recipes on typed index cards and when she started cooking, she felt like she was home with her family.