So, your invitation to the Academy Awards got lost in the mail? No worries! Throw an Oscar party, invite some friends over and you can all feel like members of the audience.
"The Oscars is a great excuse to have a party," Lara Shriftman, party planner for the stars and author of "Party Confidential," told ABCNews.com.
And what's a party without food?
Take it from renowned Hollywood hostess Dani Janssen, who has hosted A-listers Jack Nicholson, Clint Eastwood, Oprah Winfrey and Barbra Streisand for Oscar night: Food is the way to a guest's heart.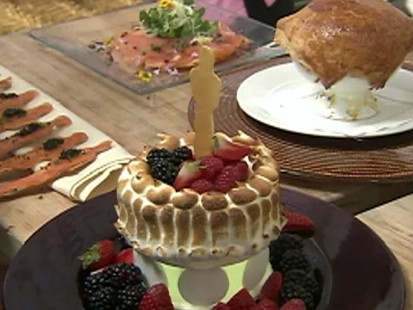 Shriftman said Janssen cooks her partygoers' favorite foods, like black-eyed peas for Quincy Jones and sweet potatoes for Bruce Springsteen, then sends them home with a goody bag of leftovers.
Shriftman recommends keeping the menu simple by offering something guests can eat with their hands.
"Slumber party or diner food," such as mini grilled cheese sandwiches on skewers, mini hamburgers and pigs in a blanket always go over well, she said.
Even if you're not cooking, you can present the food in a chic way, Shriftman said. She likes to put out big containers of popcorn, candy and chips and let guests create their own snack bags to eat during the show.
Need more ideas? Foodie Web site Epicurious.com put together a list of menus inspired by each of the 10 best picture nominees. Pick the menu of the movie you think will win. Or pick and choose among the different menus to create your own. Either way, you have a wide range of options:
'Avatar': An Homage to Blue
Peppercorn-Crusted Muscovy Duck With Blueberries

Yukon Gold Potato and Wild Mushroom Gratin With Blue Cheese

Cool Blue Martini

Wild Blueberry Pie With Almond Crumble Topping
'The Blind Side': A Southern Tailgate
Mother's Everyday Pimento Cheese

Southern Deviled Eggs

Memphis-Style Ribs

Two-Potato Salad with Creole Mustard, Bacon, and Arugula

India Pale Ale

Lemon Chess Pie
'District 9': Classic South African Dishes -- Prawns Included
Prawns Peri-Peri

Yellow Rice

Riesling

Melktert
'An Education': An Elegant French Supper, Plus Cake for Jenny's 17th Birthday
Duck a l'Orange

Classic Cheese Soufflé

White Asparagus With Truffle Vinaigrette

Pinot Noir

Fudgy Chocolate Birthday Cake

Champagne
'The Hurt Locker': The Flavors of Iraq
Baba Ghanouj

Tamarind-Honey Lamb Kebabs on Mashed Yams

Couscous Tabbouleh

Almond Baklava With Rosé Water
'Inglourious Basterds': French Bistro Fare, Plus Colonel Landa's Strudel
French Onion Soup

Green Salad With Sauce Vinaigrette

Champagne

Apple Strudel Turnovers (substitute whipped cream for the ice cream)

Milk
'Precious': Soul Food Favorites
Brined Fried Chicken

Macaroni and Cheese

Sautéed Collard Greens

Pinot Noir

Red Velvet Cupcakes With Coconut and Cream Cheese Frosting
'A Serious Man': A Jewish Family Dinner Circa 1967
Chicken Soup With Loads of Vegetables

Grandma Ethel's Brisket With Tzimmes

Mom's Noodle Kugel

Pinot Noir

Shabbat Mandarin Marble Loaf
'Up': Kid-Friendly Recipes and Drinks
Mini Hot Dogs in Cheddar Buns

Macaroni and Cheese

Edamame Succotash Salad

Grape Soda

Chocolate Decadence Ice Cream Pie
'Up in the Air': A Hotel-Style Continental Breakfast
Scrambled Eggs With Smoked Salmon and Lemon Cream

Butter Croissants

Cinnamon Blueberry Muffins

Rosemary and Mustard Breakfast Sausages

Mango, Blueberry, and Ginger Fruit Salad

Champagne and whiskey (preferably in small airplane-sized bottles)
To get the recipes for these menus, go to: http://www.epicurious.com/articlesguides/holidays/oscars/bestpicturemenus10