After a day at Disneyland, Sinise took the veterans to Paramount, the studio responsible for "Forrest Gump." The film's producer Wendy Finerman helped remake the studio's backlot into an A-list-heavy celebration, complete with a flyover from a pair of P-51 Mustangs, and helped set up a screening of the movie.
"It has been so gratifying and humbling sharing these three days with you and it's so much fun to see that 'Forrest Gump' is the gift that keeps on giving," Finerman told the audience of wounded soldiers at the movie screening.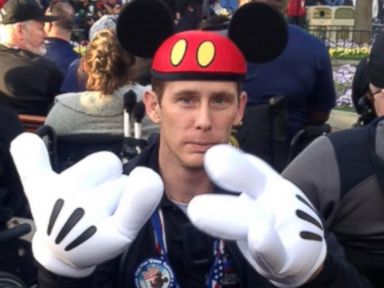 Among those at the party were disabled veterans whose lives mirror that of Lt. Dan, such as triple-amputee Bryan Anderson, who admits he grew bitter and distant after losing both his legs and one of his arms in Iraq.
"For my dark days, it was actually four months after I had gotten blown up… then I met Gary at Walter Reed and he called me Lt. Dan and I'm like, 'that's not right,'" Anderson said, laughing. "But he portrayed that [role] in a good way because there's a lot of things that are frustrating about being in a wheelchair and not being able to do things the way you used to do them."
A rare choice was made at the end of "Forrest Gump" to highlight Lt. Dan's resolve, rather than his rage, which resonates with Sinise still.
"There's a hopeful ending to the story of Lt. Dan that all our wounded veterans want… that story that they can be standing up again and moving on with life and doing all right," Sinise said.
Wounded veterans like Army Sgt. Kevin Gatson, an amputee who spent three and a half years recovering at Walter Reed, is on a hockey team despite being wheelchair-bound.
"I don't feel like I have limitations," Gatson said. "I feel anything I want to do, I'm able to do. All it takes is me saying I'm going to go do it."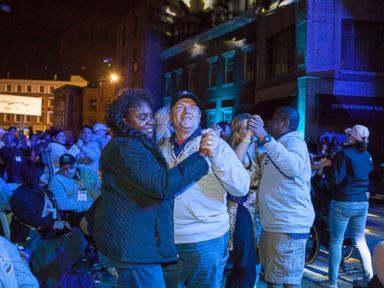 Before the trip was over, Sinise gave the troops one last set of surprises, including a heart-felt meeting with Mykelti Williamson, who played Bubba, Forrest Gump's mild-mannered sidekick, as well as the film's Oscar-winning director Robert Zemeckis and finally, an appearance from Tom Hanks. As the trip's grand finale, the group rocked out to Sinise's Lt. Dan Band.
On this trip to Hollywood, the stars were those who have sacrificed for the freedoms we hold so dear.
"The whole purpose is to send them home smiling," Sinise said. "They should know that they're appreciated and that's what we're trying to do here."