The Jon and Kate Gosselin divorce took a sharply nastier turn today, with Jon ordered to reimburse the crumbling couple's joint bank account to the tune of nearly $200,000.
The Gosselin's respective lawyers met with a court-appointed arbitrator today to iron out the couple's economic issues: namely, that Kate Gosselin, who wants child and spousal support, has accused her ex of taking $230,000 from their joint bank account. Talking to "The Insider" last week, Jon Gosselin countered that he only took $22,000, which he said shouldn't matter to the mother of his kids because she has money hidden away.
But according to TMZ.com, today, Jon Gosselin was ordered to return $180,000 of the funds he withdrew from the account. If he doesn't repay the money by Oct. 26, he'll have to appear before the judge for a contempt proceeding.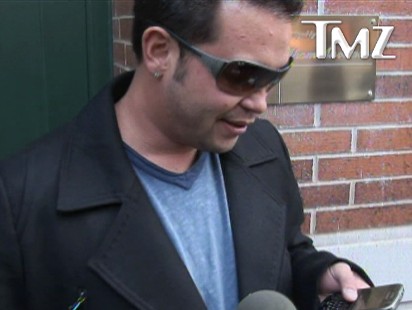 "The remaining sum of $55,000, which Ms. Gosselin used for household bills and expenses relating to the children, will be subject to further determination by the arbitrator at a later date," Kate Gosselin's lawyer, Mark Momjian, said.
Kate Gosselin was also ordered to show financial records by the same date.
"All the attorneys on both sides worked very hard," Jon Gosselin's lawyer, Mark Jay Heller, said in a statement today. "We were very pleased with the outcome of the court proceedings and the arbitration session. We are very hopeful that there will soon be a resolution."
Jon Gosselin Wants Off the Show
The cash controversy comes on the heels of Jon's declaration that he wants off the show and he wants his kids off camera for good.
"I don't think it's healthy for them, and the reason I don't think it's healthy for them is that we're going through a divorce right now," he told CNN's "Larry King Live" at the end of September. "And I don't think it should be televised, and I think my kids should be taken off the show."
TLC shut down filming of the children on "Jon & Kate Plus 8" after receiving a cease-and-desist order from Gosselin's attorney Thursday. A sign has been posted outside the family home in Pennsylvania ordering all film crews to back off the property.
Jon Slammed for 'Erratic' Behavior
"At this point, both parents have joint custody," Jon's lawyer, Mark Heller, said. "So, clearly, without the consent of both parents, this cannot go forward."
TLC has fired back, slamming Gosselin's erratic behavior. But his wishes are apparently being granted.
"Despite Jon Gosselin's repeated self-destructive and unprofessional actions, he remains under an exclusive contract with TLC," the cable-TV network said in a statement. "Direct filming of the children has been currently suspended."
Jon told King that he'd had an epiphany in recent weeks, and that he "didn't want to be this person anymore."
He acknowledged that he'd made many mistakes in dealing with the intense media glare amid the public dissolution of his 10-year marriage. He also told King that he hasn't gotten along with TLC executives since January and that they'd put him on "house arrest" and assign him a bodyguard to prevent him from going out and socializing.
The couples' respective attorneys spoke on the show, giving a grim view of any kind of reconciliation between the once-admired couple.
"I want us to mediate," Jon said. "I want us to become friends.
"We're never going to be husband and wife again but we'll always be mom and dad."
Although his financial situation appears to be in flux, Jon Gosselin's religious life is not, with the TV dad getting ready to celebrate a new "plus eight": the eight nights of Hanukkah.
Gosselin, who claims he's half Jewish, plans to rediscover his faith and toast "family values" with girlfriend Hailey Glassman this holiday season.
"This is the first year I will celebrate Hanukkah," the former "Jon & Kate Plus 8" dad told ParentDish.com in an interview posted on the site Oct. 9. "Hailey is Jewish. Everyone in my life is Jewish now, my attorney. I love it. I'm now half Jewish and half Korean. The family values are great. On Christmas, I'll see my kids during the day for a couple of hours."
Gosselin also gabbed about his love for all things Jewish, including challah bread, keeping kosher and discovering the New York City grocery store Zabar's, founded by Jewish gourmand Eli Zabar.
"I just went through Rosh Hashanah and Yom Kippur and learned about the New Year and every Friday is the Shabbat dinner," he said. "I love challah bread. I'm learning about Jewish food, going to Zabar's. I love that place. I'm learning about kosher and when not to order a bacon, egg and cheese and make an ass of myself. Hailey makes fun of me."
"My mom came to the city on Yom Kippur and asked where all the traffic was. I got from the West Side to Midtown in five minutes. She wants to come to the city every year on Yom Kippur."
ABC News' Taryn Winter Brill, Lindsay Goldwert and Kate McCarthy contributed to this report.