Bonnie Fuller, editor-in-chief of Hollywood Life is calling on Kardashian to speak out. "I think that Kim as a role model has a duty to speak out here and say this isn't a valid career choice," Fuller told Fox411.com.
Actors, Sex Scenes and Parents
While mainstream stars are hardly doing porn, they still find the idea of their parents watching them act in their own racy scenes unsettling. Below are some of the stars who have banned their parents, especially dads, from seeing their on-screen romps as well as a couple stars who don't seem to mind.
Amanda Seyfried: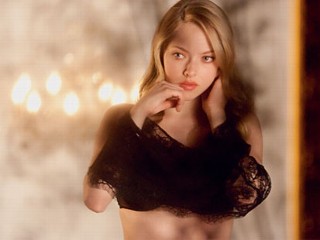 Amanda Seyfried brought her mom to last September's premiere of "Chloe" at the Toronto Film Festival, but told her dad to stay home.
The film, in which she plays a paid escort, features her in sex scenes with co-stars Liam Neeson and Julianne Moore.
"My mom can see whatever she pleases but I actually gave strict rules to my father to not come," she told entertainment website WENN. "He would normally come to my premiere and I am not comfortable with that. If he ever does see this film, he's gonna have to see it in clips. I just don't want to share it with him for a lot of obvious reasons."
Sitting next to her mom while watching her character have a lesbian encounter with Moore was uncomfortable enough, Seyfried admitted. "I didn't know what to do with my hands when the love scene with Julianne was on," she said.
Megan Fox:
Seyfried's "Jennifer's Body" co-star Megan Fox, with whom she has an on-screen makeout session, has said her parents don't have a problem with her steamy sex scenes.
She told Fox News last year when the film came out that her parents "don't care and are good about" watching her romp nearly nude on screen.
But Seyfried, who took her mom to the movie's premiere still had a tough time watching it, even if her mom was fine with it.
"She's OK, she knows it's acting but it's not necessarily OK with me," Seyfried said about her mother. "So it was difficult when my mom sat down next to me to watch 'Jennifer's Body'."
Eva Mendes:
Like Seyfried, actress Eva Mendes banned her father from seeing her first sex scene -- with Joaquin Phoenix in "We Own the Night."
"The Other Guys" star and Calvin Klein model was raised Catholic and once aspired to be a nun.
"I was cringing the entire time we were shooting it," Mendes was quoted saying after the movie's 2007 release. "I was scared about doing it and I'm still like, 'Oh my God, Dad cannot see this movie, Dad cannot see this movie! He would be mortified if he saw it."
Mendes recently released her own sex tape -- one she probably wouldn't mind her dad seeing. In a fake commercial for the website Funny or Die, Mendes' "sex tape" is actually just sticky masking tape, which Mendes says in the video will "take care of the nastiest, dirtiest and most flexible problems you have."
"Now, English isn't my first language," she jokes. "But it doesn't take a genius to know what tape is."
Sienna Miller:
Sienna Miller took her role in last year's "G.I. Joe," to spare her parents from having to watch her in another intimate or violent scene.
While promoting the film, she told reporters, "My parents are very supportive of my work, but they hate seeing me die, overdose or have sex on screen. I have to cover dad's eyes for those parts!"
blog comments powered by

New Jersey State Police/AP Photo

Petr David Josek/AP Photo

Pinellas County Sheriffâ??s Office

University of Aberdeen