Tiger Woods may be working on becoming a better man, but his marriage and golf game appear to be slipping -- along with his title as the world's best golfer.
"I'm trying to make life adjustments, life changes," a more somber Woods said at a press conference today for the Players Championship tournament in Ponte Vedra Beach, Fla. "I'm just trying to make sure I get everything organized so I can play."
Undoubtedly, Woods was referring to his personal life, which has been in turmoil since the now infamous Thanksgiving holiday car crash that set off an avalanche of allegations about sexual infidelity. His wife, Elin Nordegren, remains noticably absent, while reports continue to grow that the couple is headed for divorce.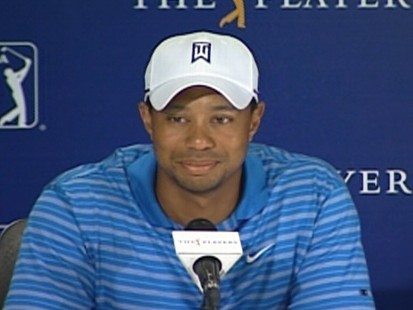 In the meantime, rival
Phil Mickelson
could overtake Woods as the world's No. 1 golf player if he wins the Players Championship and Woods finishes in sixth place, or worse. Woods has held the title for nearly five years.
Can Woods Still Cut It on the Green?
"To continue to be No. 1, you have to win golf tournaments, and I haven't done that in a while," Woods told reporters matter-of-factly. "I haven't played in a while."
Returning to the game five months after a sex scandal derailed his career, Woods acknowledged that his confidence isn't always where it should be. "I've had moments where I haven't felt very good," he told reporters.
Following a humbling performance at the Masters in Augusta in which Woods finished fourth and Mickelson first, Woods failed to even make the halfway cut at the Quail Hollow tournament in North Carolina last week. That's only the sixth time in his career that Woods has not made it past the first two rounds.
Off the green, Woods continues to be dogged by rumors of divorce and the paparazzi. Nordegren has stayed far away from his comeback tournaments and is said to be spending more time in her native Sweden, where she is currently visiting her family home with their two children, Charlie and Sam. The media have been reporting for weeks that a divorce is looming.
Media Reports Take Their Toll
Woods stopped short of blaming the media barrage on his failure to make the cut at Quail Hollow but said it was definitely affecting his game: "Every day I do media, I get asked it, so it doesn't go away," he said on his personal Web site. "Even when I'm at home, paparazzi still follow us, helicopters still hover around."
"Does it test you? Yes, of course it does. Is that any excuse? No, because I'm out there and I have the same opportunity as everybody else here in this field to shoot a good number, and I didn't do that," he said.
USA Today sports columnist Christine Brennan believes the pressure has gotten to Woods.
"I do think he's melting down," she said. "The weight of the world is on his shoulders, and we saw that last week."
Brennan worries that if Woods can't turn around his performance on the green pretty soon, "what happened over Thanksgiving will only grow in stature."
But Sports Illustrated senior editor Dick Friedman believes Woods just needs more time and possibly the rest of the season to get back where he was.
"It's going to be one step forward, one step back for a little while," he said.
Unclear Whether Woods Can Keep Golfing Title and Marriage Intact
The Tiger Woods observed today is a lot more chagrined than the relaxed, sometimes jocular Tiger Woods who appeared before reporters before last month's Masters.
At that time, Woods said his attitude had changed both on and off the course.
"It's not about the championships," Woods told a handpicked group of reporters. "It's about how you live your life. I hadn't done that the right way for a while, and I needed to change that. And I need to be a better man going forward."
Whether becoming a better man will help Tiger return to form as the world's best golfer and save his marriage to Nordegren remains to be seen.
Perhaps, in the end, Woods may salvage something else.
"I'm trying as hard as I can each and every day to get my life better and better and stronger," Woods said at the Masters' press conference. "If I win championships along the way, so be it. But along the way I want to help more people that haven't quite learned how to help themselves, just like I was."