From famed environmentalist Eg Begley Jr. comes his "Guide to Sustainable Living," a book about learning how to live the greenest life you can.
Using an "energy audit," Begley explains how each person can create a game plan for living more environmentally friendly at home.
Check out an excerpt of the book below and then head to the "GMA" Library for some more great reads.
Introduction
The last two years of my life have been unbelievable. I've been filled with hope, watching Americans from all walks of life embrace the environmental challenges of today with action and optimism. Getting e- mails from red-state Republicans that say things like, "I may not always agree with you politically, Mr. Begley, but where do I get one of those barrels to catch rainwater?" makes me realize that this is a challenge we all understand and want to overcome.
Although I think many people give me way too much credit, if the example I've set in my life has been the inspiration for some people to make positive changes in their homes and businesses, then I'm eternally grateful.
In my first book, "Living Like Ed," I tried to summarize my 39-year eco-journey and all of the things I had done in various areas of my life— including my home, my transportation choices, my efforts to recycle and save energy, and much more.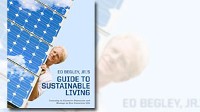 Since that book came out, I've received incredible feedback from people all over the country, including an avalanche of advanced questions on various green subjects. People are hungry for answers, and I feel that since I started this green journey for my readers, I'd better join them on the ride.
If the first book was a map, I tried to give everyone the correct ZIP code for Ecotopia. We even visited some of my favorite points of interest along the way. Now with this new book, "Ed Begley Jr.'s Guide to Sustainable Living," I want to really turn on that green GPS unit and take a very specific look at my entire journey so that I can answer all of your great questions.
As my friend Paul Connett likes to say, there are two kinds of thinkers today: back-end thinkers and front-end thinkers. Imagine your bathtub faucet is stuck and water is pouring onto the floor. Back- end thinkers start to bail water using a cup. When they find the cup is too small, they switch to a bucket. When they find the bucket still isn't keeping up, they bring in a pump to bail the water. When that's not enough, they bring in an even larger pump in an attempt to keep up.
The front-end thinker, on the other hand, turns off the tap to the bathtub, and then begins the process of cleanup. In this book, I've tried to take a front- end thinker approach to going green. If you make the right decisions and do things in the proper order, you can put money in your pocket, reduce waste and pollution in the city where you live, reduce our overall dependency on Mideast oil, and lead a healthier and more toxin- free life. And who isn't for all of those things?
Please join me on this journey to make your home—and your lifestyle—greener and healthier and better overall in so many ways.
Chapter 6: Water
There's an old saying: whiskey is for drinking and water is for fighting. And I think it's true. We've certainly had a lot of water wars over the years—throughout civilization, and most recently in arid states including Arizona, Nevada, and California. And we'll continue to have conflict over water as more and more development occurs and the available resources become more scarce.