A Virginia man is suing state lottery officials after he bought lottery tickets that he says held no chance of winning a prize.
Scott Hoover, a business professor at Washington and Lee University, studied the odds and bought a few $5 scratch-off lottery cards called "Beginner's Luck" last summer. The top payout for a winning ticket was $75,000.
"I knew the chance of winning the $75,000 were low, but much higher than usual," Hoover said. "It turns out we discovered my chances were exactly zero. Not one in a thousand, not one in a million but exactly zero."
After checking public records, Hoover discovered that the Virginia State Lottery had already awarded the top prize a month before, but continued to sell the tickets.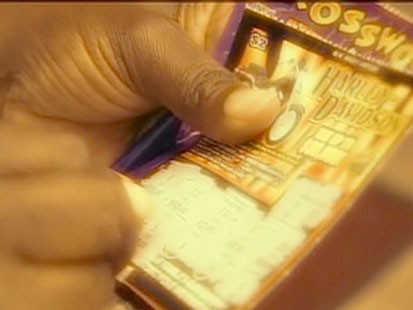 Paula Otto, executive director of the Virginia lottery, said the game's Web site is updated every day with information about winners and prizes.
"We have always been very open and honest about our prizes," Otto said. "The Web site is updated every single day. If in fact a last prize is gone in the past, we would let our players know that through the Web site."
But according to a screen grab of the Virginia lottery's Web site in August, officials promoted six prizes left for the "Beginner's Luck" game.
When asked why the site advertised they were still available, Otto said, "Well I don't want to go into the specifics.
"What I can tell you is that for the majority of games for years, when the top prize was won the lottery would end the game and that has been true for the last year," Otto said.
USA Today estimates that half of the states with lotteries still sell tickets after the top prizes are claimed.
Hoover crunched the numbers and believes the Virginia lottery sold more than $84 million worth of tickets for jackpots that no longer existed.
In his lawsuit against the state lottery, he's asking for $84 million in damages to be awarded to all the players who bought what he called "stale" tickets.
Hoover says he just wants the $120 he plunked down back.
Meanwhile, Virginia lottery officials stand by the integrity of their game, telling "Good Morning America" that they look forward to "vigorously defending" themselves in court.