Many infomercial products promise the world, or at least a cleaner house, more beautiful hair and smoother skin, with virtually no effort whatsoever.
Do the products seen on TV live up to their claims? "Good Morning America" technology contributor Becky Worley has has put dozens of them to the test to find out if they're worth the money.
Here are four of them: the ShamWow, Mighty Mendit, Smooth Away and InStyler, with her grades awarded according to how well they lived up to their claims.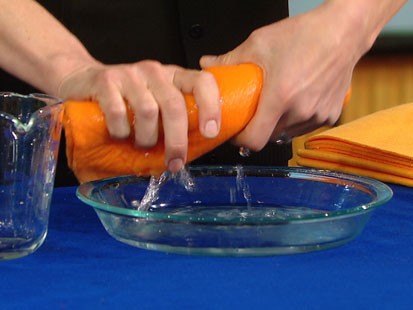 ShamWow, $19.95
Becky's Grade: C+
Becky says: I love the ShamWow commercials. The pitchman Vince Offer, straight off a Jersey Shore boardwalk, is a terrific salesman.
I simulated the TV demonstrations of the ShamWow, soaking a pie pan full of water and cleaning spilled soda on a carpet. When I tried it, the ShamWow absorbed the whole pan of water. Then I tried a terry cloth towel of the same size as my ShamWow, and the regular towel accomplished the same feat.
Then I tried the spilled soda demo. Vince says that by simply putting the ShamWow on the carpet, it absorbs the soda that has seeped under the carpet. Trying myriad techniques, the ShamWow absorbed some of the liquid, but not as much as Vince did in his demo.
There was still soda under my carpet, and the ShamWow didn't miraculously pull the stain from the carpet as the infomercial implies. It did a decent job absorbing the wetness but is $19.95, plus shipping and handling, better than that rag you're using now? Nope.
Company Response: "It has to be folded and damp for carpet, for tough stains add water."
Mighty Mendit, $19.99
Becky's Grade: C
Becky says: Fabric glues have been around for a while, and they are good for quick mending jobs or surfaces that are tough to sew. Following the directions, I used Mighty Mendit to repair a torn pocket on a pair of jeans, hem a pair of gauzy pants and hem a pair of jeans. Mighty Mendit was totally transparent and went on easily.
The company recommends letting the glue dry for two hours. I waited four hours, and the glue seemed dry. The pants pocket had some spilled glue that made the jeans look messy, but I attribute that to my own error.
The pocket didn't feel very secure, and with a light tug, it pulled away from the pants. My gauzy pants didn't handle the glue well. They were too light, and the glue made the hem bulky and clumpy, not a fashion statement I'd be proud to sport. Mighty Mendit did a decent job with the heavier fabric of the jeans hem and this seemed to be its best use.
In the long run , it would be much stronger to sew the hem. But for a quick fix, I'd use another infomercial product, Mighty Putty, on work clothes or sturdy fabrics.
Company Response: "Mighty Mendit is an effective and flexible bonding agent that grabs, adheres and interlocks the fibers of virtually any fabric for a permanent repair. When the instructions on the package are followed, Mighty Mendit is effective as advertised."
Smooth Away, $14.99
Becky's Grade: D
Becky says: Smooth Away is a pad that you rub on your body to remove hair. It works but it takes a long time, has the same result as a razor and costs a lot more money.
Smooth Away does not dissolve the hair root; it buffs away the hair on the surface of the skin. Smooth Away is about the size of a deck of cards, and you have to buff each area for about a minute to remove the hair.
It took too long for my liking.
After using Smooth Away, my hair grew back stubbly and fast, as if it'd been shaved. I liked the fact that Smooth Away also exfoliated my skin, but I got the same result by exfoliating my skin with a washcloth and then shaving.
Plus, when I did the math, Smooth Away cost me $1 every time I used it on my legs. That's way more than my razor for a nearly identical result.
Company Response: "Smooth Away is not a 'shaving process' but a beauty treatment that exfoliates while instantly removing hair in the applied area without the pain, chemicals, odors, nicks or cuts associated with other hair removal methods."
InStyler, $14.99
Becky's Grade: B
Becky says: The InStyler is a product that claims to give you a flat-ironed look with more body and rounded edges. It didn't do much for my straight, long hair, but it took some of the frizz off and rounded the ends a little.
After watching the infomercial, I was hoping for big, bouncy curls without any flyaways. Basically, I got straight hair with flipped up ends. It's not a fast process because you have to style small sections of hair to get the best results.
I asked a friend with thicker, frizzier hair to try it, and she liked the results but agreed it was time consuming. It seems that people who struggle with frizzy hair but don't want ramrod straight flat-ironed hair will like this product. It also did a pretty good job giving the roots of my hair extra body the next day.
Company Response: "GMA" contacted InStyler, but the company didn't offer a response.