Vehicle recalls may have made big headlines recently, but it's not just Toyota. There are hundreds of other recalls affecting millions of vehicles every year. The problem is, not everyone listens when the warnings go out.
The government estimates that 25 percent of owners of recalled vehicles never get those problems fixed, meaning an estimated 37 million vehicles the government wants repaired for safety reasons never get the fix.
Seventeen-year-old Nicole Smith was driving to work when the used car her mother had recently bought for her suddenly started to buckle at a busy Albany, N.Y., intersection.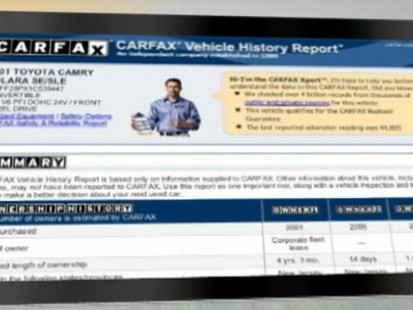 "I was terrified," Smith told "Good Morning America." "It was right around rush hour, all these cars were going by me. I had no control of how the car moved."
Smith could barely steer but managed to just reach a small parking lot. She later learned the front lower control arm that holds the wheel on had broken off -- the same problem that had been the subject of a federal safety recall.
"When the car first broke down, I was really upset," Smith's mother, Linda Stewart said.
Stewart had chosen this vehicle specifically because her teen daughter's previous car had safety problems. She even checked for open recalls before she bought it, but nothing showed up.
"One of the factors I wanted to look for was that there weren't any pending problems or issues with it," Stewart said.
Fortunately Stewart chose to send the vehicle to a local car dealership, where it was immediately repaired -- for free. It was a fix that would have cost nearly $1,000.
"It was hugely important because I would have probably taken it to a local garage and paid for it," she said. "I wouldn't have even attempted to take it to a dealership to sort it out."
Carfax, the vehicle history report company, said that last year at least 1.4 million cars that were recalled but not repaired changed hands. Often, motorists never receive notification because they have moved or are not the original owner of the car.
"We think open recalls are a serious issue that we as used car owners should be getting fixed," said Larry Gamache of Carfax.
For years, Carfax has offered consumers a free recall check on its Web site even if they don't buy a report. That service has gotten new attention with all the publicity about the Toyota recalls.
"It's very easy. If you find out a vehicle you own has an open recall, take it to a franchise dealer and they will repair it for free," Gamache said.
And that free repair will not only save you money, it could save your life.
"The biggest lesson I learned from the whole experience is that knowledge is power and the more you know and the more research you do, the better off you are and the better decision you can make," Stewart said.
GM Announces Recall Database Sharing With Carfax
So what can motorists do?
The Carfax check is free and today, Honda and General Motors -- with brands such as Chevrolet, Buick, GMC and Cadillac -- will begin sharing their recall databases with Carfax. Now you will be able to look up about 25 different makes of cars.
Click HERE to check your vehicle's recall history on Carfax.
You can also sign up for a free e-mail alert offered by the National Highway Traffic Safety Administration that lets you know about vehicle recalls. Click here to visit the NHTSA Web site.
If you're still concerned, call your local dealer and they can search your car by VIN number. And of course, before you buy a used car, you should check to see if there are any open recalls.