Victory was sweet for "Dancing With the Stars" season nine winner Donny Osmond, especially because he out-polled sister and former contestant Marie Osmond.
"I beat Marie!" Osmond exclaimed on "Good Morning America." "I am really proud of this. I am the oldest recipient of the Mirror Ball Trophy."
Osmond and fellow finalists Mya and Kelly Osbourne appeared live on "GMA" today to talk about last night's big finale.
"We're running on adrenaline," Osmond, 51, said. "We were competitors but we're best friends."
The winner joked that his three biggest memories from his big win are the look on professional partner Kym Johnson's face, kissing his wife, and letting sister Marie Osmond hold the trophy. He said he planned to put the trophy "at the top of my house with a spotlight on it."
Marie also had a message for her brother. "We are all so proud of you," she said. "You won! Let's never talk about this again."
Osmond seemed stunned to be voted the "Dancing" king on Tuesday night after wowing viewers and judges with his tango. Partner Johnson took home the title for the first time, after being the runner-up twice. She called Osmond "the ultimate professional."
"He's just got the best attitude," she said on "GMA." "We had so much fun all season."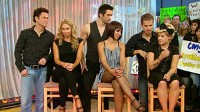 Singer Mya took second place despite consistently winning top scores week after week and top praise for her Tuesday night jive.
"We're tired but wired," she said on "GMA." "I could do it all over again 10 times."
Osbourne was awarded third place after dancing a graceful Viennese Waltz. She thanked America for consistently voting for her week after week and then ran over to her father, heavy metal icon Ozzy Osbourne, for a post-competition hug.
"It was a shock to me to be even in the final," she said on "GMA." "To be in that final was just incredible. It was one of the best nights of my life."
"I am not the same person that walked in that door 15 weeks ago," Osbourne added. "Everything in my life has changes for the better. I never thought it would happen through dancing."
Joanna Krupa, Aaron Carter Fall Short of 'Dancing With the Stars' Finals
The finalists each performed three dances on Monday night as they competed for the Mirror Ball Trophy. Osbourne fell during her freestyle dance but still impressed the judges with her energy.
"You epitomize what this competition is about," judge Len Goodman said after her Argentine tango. "I thought you came out and danced right up there."
Bruno Tonioli called her "the revelation of the season" and Carrie Ann Inaba praised her "intimacy and intensity."
Mya and Osmond each earned a perfect score for one dance, and at the end of the night came in first and second based on their scores.
"I dub you the queen of the paso doble," Inaba told Mya.
"That was truly an absolute show stopper," Goodman told Osmond after his freestyle dance.
Swimsuit model Joanna Krupa made her exit from "Dancing With the Stars" just one show short of the final dance-off, despite strong scores from the judges.
"Last night was pretty tough," Krupa told "Good Morning America" the day after her elimination. "I wasn't too shocked to find out I was leaving. I was competing against huge names. ... I was prepared for it, but I am bummed, I won't lie. I tried my best."
Pop star Aaron Carter said he was "a little shocked" to be voted off the show in week eight.