Police leading the search for a 7-year-old Oregon boy who disappeared from his school 10 days ago announced today that their effort is now focused on a criminal investigation.
Hundreds of investigators from across Oregon, as well as the FBI and National Guard, had joined the search for Kyron Horman, the second-grader who was last seen shortly after a science fair at his suburban Portland elementary school on June 4.
An official from the Multnomah County Sheriff's Office said today that the search, the largest ever in Oregon, will be scaled back as the direction of the investigation shifts.
"We will keep a contingent of local search and rescue crews on call to respond to any tip or investigative [any] lead that needs to be checked out," Capt. Monte Reiser said today at a news conference. "All along we have said that we are looking at a full spectrum of possibilities as to what happened to Kyron.
"With the search and rescue mission completed at this time, we are moving operations toward the criminal investigative end of the spectrum," he said. "While we are still keeping all options open, it's a natural progression to move the overall focus to a criminal case."
Multnomah County Sheriff Dan Staton said the change the effort to find the boy would not be diminished.
"It is not going to stop, and I am not going to cease in dedicating resources to locating Kyron," he said.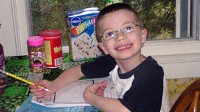 Courtesy: Multnomah County Sheriff's Office
Kyron was last seen by his stepmother, walking toward his Skyline Elementary School classroom after he had proudly displayed his science fair project on tree frogs.
He was last seen wearing a "CSI" T-shirt and black cargo pants.
The school is set on the edge of a deep woods, and initially the search had been focused on a two-mile radius, but was expanded Saturday when the team of investigators was expanded to 300, Sgt. Diana Olsen, the Multnomah County Sheriff's Office search and rescue coordinator, said Saturday.
Police have said little about what they have learned in the days of desperate searching for Kyron and today was no different, though Olsen said search teams feel they are making progress.
"We know where he's not," she said. "That means we're getting closer to where he is."
Also on Saturday, one day after Kyron's family issued its first public statement, the family responded to questions about the little boy's personality today, through Multnomah County Sheriff's Captain Mike Shults, the liaison between Kyron's family and law enforcement.
Red is his favorite color and he wants to be a police investigator when he grows up, the family said.
He has a cat, Bootsie, who follows him around his property and meets him at the bus. He likes art, frogs and Hot Wheels, has a belly laugh and has lots of friends, the family said.
On Friday, Kyron's family thanked the hundreds of people who have searched for the boy and sent a message of hope directly to him.
"We want to say how much we appreciate the outpouring of love and support as we wait for you," said the boy's stepfather, Tony Young. "Until you come home we are not a family."
"Please, Kyron," Young said, hoping to speak directly to the missing second-grader, "keep up the hope. We believe in you."
On Thursday, a National Guard helicopter and searchers on horses joined about 125 volunteers searching through rain-soaked brush and steep terrain around the Skyline Elementary School in Portland.
The boy's father appealed to the community for help in finding the boy.