The designers worked long and hard to create a dynamic look for Robin Roberts to wear to the Academy Awards on Sunday, March 7.
With the help of Glamour magazine's executive fashion editor at large Suze Yalof Schwartz, Roberts narrowed down her choices to three finalists: Fabiola Arias, Kwame Brako and Shawn Reddy, all graduates from Parsons The New School for Design.
You've seen the finished gowns on "GMA" and more than 39,000 of you voted. Tomorrow on the show, you'll see which dress Roberts picked.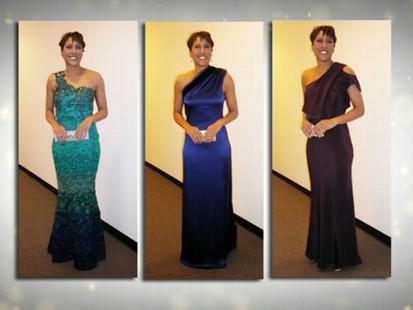 Fabiola Arias
Arias decided to create an emerald green dress that gradually fades to navy blue at the bottom.
Kwame Brako
Brako sketched four or five designs before finally settling on a one-shoulder dress in a shade of midnight blue.
Shawn Reddy
Reddy said he wanted to push Roberts out of her style "comfort zone" and decided on a one-sleeve gown in an eggplant color.
Click here to return to the "Good Morning America" Web site.