A sea of 60,000 fans eagerly greeted, cheered and sang along with superstar band Bon Jovi as the group hosted a free concert in New York's Central Park Saturday night that could be seen -- and heard -- several blocks away.
With the lights of the city's skyscrapers looming beyond the park, the New Jersey band rocked in the first free performance on the Great Lawn since the Dave Matthews Band graced the concert site five years ago. Bon Jovi gave ABC News exclusive backstage access before the show, to talk about what it meant to them to perform on the site that Simon and Garfunkel made famous with their 1981 performance there.
"It's a very rarified [appearance]. Not too many people play here," said lead singer Jon Bon Jovi, who admitted that any number of artists could have filled the outdoor area with fans.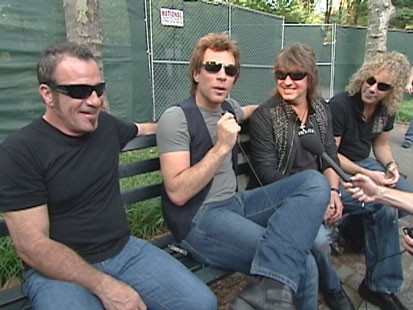 "There's plenty, but it's just nice that it's us," Bon Jovi said.
The Garden State boys rocked the park the Jersey way, singing several of their greatest hits, including "Livin' on a Prayer" and "You Give Love a Bad Name," before ending their set with "I Love This Town" -- a kind of throwing out the first pitch for Major League Baseball's All-Star week. The midsummer classic will be played in Yankee Stadium.
The concert was an eagerly anticipated homecoming for the Grammy Award-winning quartet, whose enthusiastic fans began lining up for the concert the night before. Many slept outdoors on the city's streets in hopes of attaining the best seats.
Though the tickets were free, some were reportedly being scalped on online auction site eBay for as much as $1,500 for a pair, according to the Associated Press.
Though Bon Jovi said the site was "a medium-size venue" for the band, and was show No. 97 on its 100-city tour, it seems that, in some ways, the concert was more than just the latest in a two-decade-plus career marked by one success after another.
Before taking the stage, guitarist Richie Sambora expressed his excitement about the event.
"You get excited, especially for a show like this, because it's something we haven't done," he said. "It's one of the few things we haven't done."
The group has sold 120 million albums and given some 2,500 concerts. At a time when many of their contemporaries have long faded from the pop metal scene, Bon Jovi continues its dominance.
Now, the band has joined other greats who have performed on the Great Lawn, including Paul Simon and Barbra Streisand.
When Pope John Paul II visited New York in 1995, he spoke to tens of thousands of people on the lawn.