President Obama has selected Solicitor General Elena Kagan as his second nominee to the U.S. Supreme Court, ABC News has learned.
If her nomination is approved by the Senate, Kagan would fill the seat left open by the retirement of Justice John Paul Stevens and become the fourth woman ever to sit on the nation's highest court.
Kagan, 50, is considered one of the finest legal scholars in the country, dazzling both fellow liberal and conservative friends with her intellectual and analytical prowess but also her ability to find consensus among ideological opposites.
"She's a solid, hard working, intelligent, really smart lawyer, who's had an extraordinary amount of experience in the law even though she hasn't been a judge," said Greg Craig, former White House counsel, on "Good Morning America." "Politically, I think she's also as mainstream as they can get."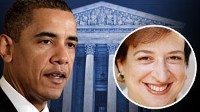 ABC News Photo Illustration
Obama, who called Kagan last night with his final decision, is also said to be impressed with her trail-blazing career as the first woman to head Harvard Law School and the first woman confirmed as solicitor general. Kagan's background as the daughter of a tenant lawyer and a teacher and her never having served as a judge were also important factors in her nomination, sources say.
During her confirmation for solicitor general, Kagan won the support of Democrats and nine Republicans in the Senate, including two conservatives on the Judiciary Committee: Sens. Jon Kyl and Orrin Hatch. In the weeks ahead, Democrats will likely make the case the case that if she's good enough to represent the U.S. before the Supreme Court, she's good enough to be on the court.
But some conservatives are expected to put up a fight, calling Kagan "inexperienced" and divisive in reaction to her nomination.
"Kagan has been nominated with no judicial experience, a mere two years of private law experience, and only a year as Solicitor General of the United States," wrote David McIntosh, co-founder of the conservative Federalist Society. "She is one of the most inexperienced nominees to the U.S. Supreme Court in recent memory."
"She's been extremely guarded about her views, with the exception of gay rights, where she has been vehement in opposing federal laws she doesn't like and has worked as Solicitor General to undermine those laws," said Ed Whelan, president of the conservative Ethics and Public Policy Center.
Still, Kagan supporters say they don't see the criticism as a real threat to her confirmation.
"You don't have to have judicial experience to be a highly qualified candidate," said Craig. "She is her own person -- an independent force of nature."
William Rehnquist and Lewis Powell, both appointed by President Richard Nixon in 1972, were the last two justices to sit on the high court without any prior judicial experience.
Who is Elena Kagan?
Human rights advocates have been furious that as solicitor general Kagan has supported some of the same policies held during the Bush administration, including the argument against extending habeas rights to detainees held in Bagram Air Force base.
But experts caution about reading too much into the positions Kagan has taken while serving as solicitor general.