The frustration of long lines and the short supply of H1N1 flu vaccine is bad enough. But the scarcity has led to scams. Fake drugs, ultraviolet lights and zappers that say they can kill the virus are just some of the products that have shown up on the Internet as this pandemic has grown this year. Members of Congress want to know what the government is doing to protect consumers.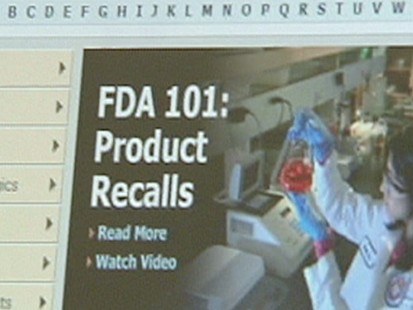 Recently, Sen. Claire McCaskill, R-Mo., was blunt when she questioned administration officials.
"There are also hoaxes out there right now. There are people advertising fake drugs, going on the Internet, saying, 'Lick here and we can save you from H1N1,'" she said.
Then she asked the panel: What are "you all are doing to protect consumers in this country from, um, scumbag con men?"
Homeland Security Secretary Janet Napolitano cracked up the hearing room by starting her answer with, "With respect to our scumbag initiative ..."
But federal officials say they are serious about trying to crack down on scams and unapproved products. The Food and Drug Administration has sent warning letters to several companies and posted a list of fraudulent products on its Web site.
Even the commissioner of the FDA was surprised at some of the claims. "Air purifiers that claim to kill the virus, wires that you attach to your body to zap the virus," says Dr. Margaret Hamburg . She added, "We've seen power drops, magic wands and shampoos that supposedly can kill the virus."
But the FDA has also found fake pharmaceuticals.
One site offered the anti-viral drug Tamiflu. But what arrived in the mail was nothing close to the real drug.
"What they got was talcum powder and acetaminophen packaged in a way that you almost can't believe someone would try to put forward as a legitimate pharmaceutical product/a>," said Hamburg as she helds up a bag with pills that looked nothing like the real drug.
But it's not just fakes. The FDA is also going after unapproved products. In fact, a well -known doctor received a warning letter from the government. Dr. Andrew Weil said on a CNN news broadcast that a Chinese herb, astragalus, has anti-viral properties and is perfectly safe. He was selling a compound that contained astragalus on his Web site.
In a letter to Dr. Weil and others offering unapproved products, the FDA said, "You should take immediate action to ensure that your firm is not marketing, and does not market in the future, products intended to diagnose, mitigate, prevent, treat or cure the H1N1 Flu Virus that have not been approved, cleared, or authorized by the FDA."
FDA on the Lookout for Fraudelent Treatments
Dr. Weil's company says it complied and took the product off its Web site.
So far, the FDA has listed 70 Web sites and 140 fraudulent products. The agency is looking for more. FDA workers are tapping keyboards, surfing the net looking for problematic products.
"We're pulling up the same things that consumers searching for these types of things would pull up," one of them told ABC News.
The FDA commissioner says her best advice is for Americans to wait for the vaccine and not succumb to products that claim to be a miracle cure or scientific breakthrough.
"Anything that promises it can diagnose, prevent, treat or cure H1N1 but isn't an FDA-approved product, do not buy it," Hamburg said.