Nestled in the green Scottish countryside, Balmoral Castle towers over the surrounding evergreens and open courtyards, a relic of a grander era, invoking daydreams of Cinderella or King Arthur.
But rather than knights or dragons, it was not too long ago that a passerby might catch a glimpse of the 90-something Queen Mother Elizabeth, waist deep in a river, fishing in waders. It was at Balmoral that the queen would take a reprieve from the pressure of leading the strongest family in the United Kingdom and fishing was just one of her passions.
"Now it's one place where the royal family can all relax together and be a family and go on picnics together, go fishing together, have barbecue's together, and free from the interference from the outside world," William Shawcross who penned the new official royal biography, "The Queen Mother," told ABC News.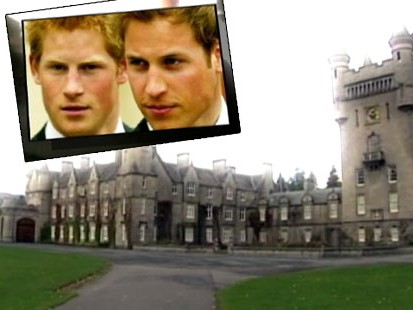 Granted unprecedented access to royal documents, including her private letters, Shawcross' behind-the-scenes research spanned the Queen Mother's 101-year life and captured a side of the royal rarely seen except by those who knew her best.
Secrets about Balmoral's friendly, intimate gatherings and how the queen left her mark -- she was the one to invite a younger crowd of friends than ever into the house -- are just a fraction of the royal life revealed in Shawcross' biography, which hits bookshelves in the U.S. next week.
"She had from childhood and extraordinary bubbly, effervescent, joyful personality. And one of the wonderful things for me as her biographer was to read her letters from age 10 to 100 because they all overflowed with jubilant love of life," Shawcross said.
'Lot of Mischief' in Queen Mother's Childhood
Elizabeth Bowes Lyon never expected to be the queen, but when she was crowned, Scotland rejoiced. For the first time since the 17th century, one of their own had become part of the British monarchy.
Born into Scottish nobility as the ninth of ten children, the future queen was raised in several grand homes, including the famous -- some say haunted -- Glamis Castle.
"She had from childhood an extraordinary bubbly, effervescent, joyful personality," Shawcross said.
According to Glamis Castle's current manager, Gil Crawford, early stories about the future queen tell of "a lot of mischief in the early years."
The Reluctant Royal Takes the Throne
As a teenager during World War I, Elizabeth learned some hard lessons at the castle when it became a home for wounded soldiers.
"Those four years of getting to know men from all walks of life gave her an experience of relating to people which she wouldn't have had if she'd grown up in the royal family," Shawcross said.
She wasn't anxious to marry into the royal family. Prince Albert proposed three times before she said yes. But their love shines through in letters she wrote during their engagement.
"My dear darling, I'm just writing you a very little letter," Shawcross read from one of their correspondences. "I should be thinking about you when you get this, and hoping that everything will go off wonderfully well. I'm sure it will. Also, I might add that I do love you, Bertie, and feel certain that I shall more and more. I shall miss you terribly. You are such an angel to me."
"They grew together in the most beautiful way," Shawcross said.
Albert was not in line to become king. Instead, his brother David was. But David famously fell in love with American divorcee Wallace Simpson and gave up his title to marry her.
David's abdication meant Albert was in line to be king and Elizabeth to be queen.
"He [Albert] didn't feel equipped for it, and quite frankly, if he hadn't been married to Elizabeth, he would have found the job almost impossible, because she gave him strength and such confidence," Shawcross said.
When Albert, then known as King George, died at 56 years old in 1952, the Queen Mother settled into a new life as a widow.
"The death of the king in 1952 was a catastrophe for the queen," Shawcross said. "She was only 51 herself, and as it happened, she lived another half of her life -- another 50 years -- as a widow."
Throughout the rest of her life, she spent months at a time at Balmoral -- a place she felt connected to.
"She loved the country. She enjoyed walking a lot. She enjoyed fishing, and later in life, she was fishing in waders, right up into her 90s," Shawcross said.
Being at Balmoral wasn't just good for the queen, it was good for the kingdom, Shawcross said.
"I think the fact that the royal family loved Scotland so much, since the early part of Queen Victoria's reign, has had a very important effect on the unity of Scotland and England. The royal family's love of Scotland has helped keep those parts of the kingdom together," Shawcross said.
At a nearby neighborhood pub, patrons remember the queen interacting with people in the town when she came in for shopping or to visit the butcher.
"You don't expect people like that will talk to commoners, but she did," one patron told "Good Morning America."
"She earned a lot of respect," said another.
More than respect, Shawcross said Elizabeth earned the love of her people and carried on the royal tradition -- the one that dates back to the times of knights and damsels in distress.
"She was dependable and loyal and utterly reliable," Shawcross said. "She represented that sense of the golden thread of history, in a marvelous way."
ABC News' Lee Ferran contributed to this report.
CLICK HERE to return to the "Good Morning America" Web site.