Easy Mini Caramel Pies
These Small Pies Make an Easy Dessert or Snack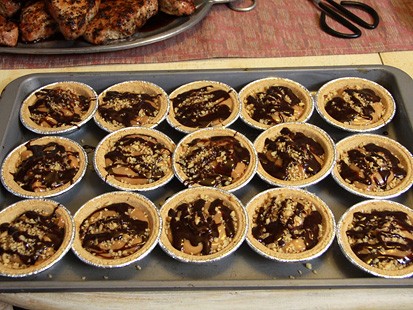 From the kitchen of Feasty Boys
|
The Feasy Boys say, "If you can boil water, you can make this pie!"
Ingredients
3 cans sweetened condensed milk
18 mini graham cracker pie crusts
1 jar chocolate syrup
1 package crushed nuts
1 can whipped cream
Cooking Directions
Peel labels off the cans of condensed milk, but do not open them. Place the unopened cans upright in a medium saucepan. Fill saucepan with enough water to completely cover cans. Place the saucepan on stovetop and bring to a very slow boil. Allow the cans to boil for 3 hours, occasionally adding more water to ensure the cans are completely covered. Once the cooking time has elapsed, remove the pot from the stove and place in sink. Run cold water over cans for several minutes and then allow them to cool in cold water for 15-20 minutes.
Carefully open the cans (we recommend that you cover the can with a heavy towel when opening) and scoop the caramel into the individual pie crusts. Top with a series of crisscrossed shots of chocolate syrup on top of the caramel and sprinkle with the crushed nuts. Place in refrigerator and allow to cool for 1 hour. Top with whipped cream prior to serving.
Other Recipes That You Might Like