Caramel Swirl Cream Puffs
Recipe Courtesy of Hungry Girl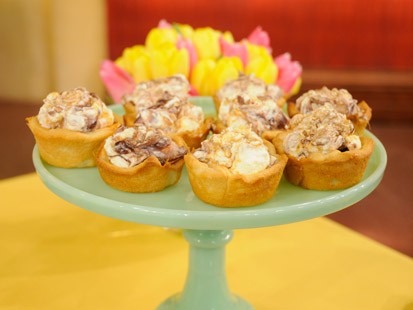 From the kitchen of Hungry Girl
|
Ingredients
1 package Pillsbury Crescent Recipe Creations Seamless Dough Sheet
2 1/2 cups Cool Whip Free, thawed
3 tablespoons sugar-free fat-free vanilla instant pudding mix
1 Jell-O Sugar Free Chocolate Pudding Snack
1/4 cup plus 2 tablespoons fat-free or light caramel dip, room temperature
Cooking Directions
Preheat oven to 375 degrees. Spray a 12-cup muffin pan with nonstick spray and set aside.
Roll dough out into a 12-inch by 9-inch rectangle. Using a knife or pizza cutter, cut into 12 squares.
Place each square of dough into a muffin cup, and press it into the bottom and up along the sides of the cup to form a little "dough cup."
Bake in the oven for about 12 minutes, until golden brown. Remove and let cool.
In a large bowl, combine Cool Whip and instant pudding mix. Stir until blended, thickened, and uniform.
Swirl chocolate pudding into the Cool Whip mixture, being careful not to over-stir.
Remove dough cups from the muffin pan and evenly distribute pudding mixture among them.
Top each with 1/2 tablespoon caramel dip and use the end of a spoon or fork to swirl it into the creamy mixture. Serve and enjoy!
Check out Lisa Lillien's"Hungry Girl 1-2-3".
Needed: 12-cup muffin pan, nonstick spray, rolling pin, pizza cutter (optional), bowl
Per serving (one puff): 121 calories, 3.5g fat, 266mg sodium, 22g carbs, 0g fiber, 6.5g sugars, 1.5g protein
Makes 12 servings
Other Recipes That You Might Like