Tagliolini Alla Puttanesca
From 'Chef's Table'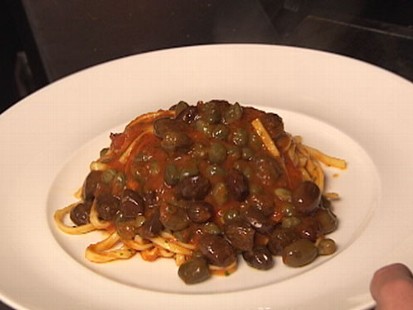 Quattro chef Fabrizio Carro layers fresh ingredients and red sauce over pasta.
From the kitchen of Nicola & Fabrizio Carro
|
Ingredients
For the Tagliolini Alla Puttanesca:
6 ounce Fresh Pasta, see batch recipe
1 ounce EVOO
1 ounce garlic, minced
2 ounce anchovy, minced
1 taggiasche olives
1 capers, soaked to remove excess salt
1 tsp, peppercini
1 tsp, parsley, chopped fine
1 gal, tomato sauce, see batch recipe
S + P
Cooking Directions
For the Puttanesca Sauce:
In a rondouex, heat EVOO and add the peppercini. Add the garlic and anchovy and sweat med heat. Add the olives and the capers and sweat for 3 mins more. Add the tomato sauce and simmer for 20 minutes.
Adjust seasoning and cool
For the Pasta:
Pass the dough through the pasta sheeter on the largest setting.
Fold the dough in 1/2, and pass through the pasta sheeter 2 more times on the largest setting.
Reduce the pasta machine's roller setting by 1 and pass through.
Repeat this process untill the pasta dough is about 1/2 cm. thick (#3 on the machine)
Cut sheets 8" long and run through the tagliolini cutter attachment
Make 6 oz portions
Other Recipes That You Might Like