Diane Henderiks' Balsamic Strawberries with 'Ricotta Cream'
Recipe Courtesy Diane Henderiks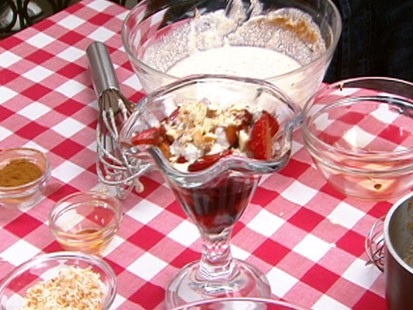 From the kitchen of Diane Henderiks
|
Ingredients
1/2 cup balsamic vinegar
1 tablespoon lemon juice, freshly squeezed
1 tablespoon raw sugar
4 cups strawberries, stemmed and sliced
1/2 cup part-skim ricotta cheese
1 teaspoon pure vanilla extract
2 tablespoons evaporated skim milk
1/2 cup non-fat Greek yogurt
Pinch cinnamon
1/4 cup almonds, toasted and slivered
1/4 cup coconut, toasted
Cooking Directions
Place berries large dish.
In small saucepan over medium heat, combine balsamic vinegar, lemon juice & sugar. Cook for 3 minutes.
Remove from heat and pour over berries. Refrigerate and let marinate about 1 hour.
Whip together ricotta cheese, vanilla and evaporated skim milk.
Gently fold in yogurt and cinnamon.
Place 1/4 cup fruit in bottom of dessert glass-top with 1 tablespoon ricotta mixture, 1 1/2 teaspoons almonds and 1 1/2 teaspoons toasted coconut. Repeat one more time.
Other Recipes That You Might Like