Key West: Killer Hogfish Sandwich
Hogfish Bar and Grill Gives Key West Some Flavor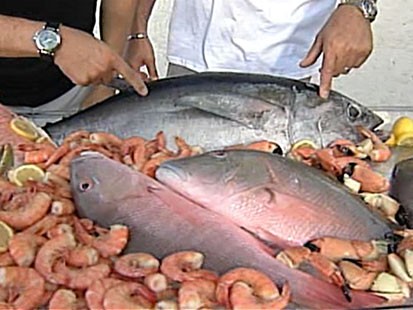 From the kitchen of Hogfish Bar and Grill
|
"Good Morning America's" Sam Champion reported on the oil slick from Key West, Fla. But it wasn't all bad news. While he was there, Sam got the chance to dig into the local cuisine.
Check out the recipe for Hogfish Bar and Grill's Killer Hogfish Sandwich.
Ingredients
4 8oz servings of fresh hogfish
1 large yellow onion chopped
1 cup mushrooms; chopped
Sliced Swiss cheese (8)
Fresh Cuban Bread cut to 4 6" portions
3 cups cracker meal and self rising flower mixed together ( 50/50 mixture)
2 cups of self rising flower
1 quart buttermilk
Salt and pepper for taste
Lemon wedge for garnish
Cooking Directions
First, place hogfish fillet in flour to coat, then dip into buttermilk and then submerse into cracker meal and flour mix, making sure to press firmly and evenly to ensure equal breading. Repeat until all Hogfish fillets have been breaded. Set aside.
Sauté mushrooms and onions in olive oil until lightly browned and softened about 3 minutes. Once softened, divide the mixture in the pan into 4 portions. Place cheese slices over each section of the mushroom and onion mixture just until slightly melted.
In large sauté pan, heat olive oil to 325°. Only use enough oil to reach up to ½ inch on pan side, just enough to shallow fry. Fry hogfish approximately 3 minutes per side and set aside on paper towel to absorb excess oil.
Dress your Cuban bread with lettuce, tomato or any of your favorite trimmings and tartar sauce, place the hogfish on the sandwich and then, using a spatula, top with the mushroom mixture.
Other Recipes That You Might Like