Emeril's Herb Salad
From the Farm to Your Fork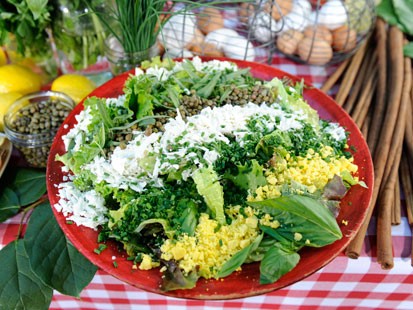 From the kitchen of Emeril Lagasse
|
In this salad herbs are used like lettuce, courtesy of your garden or your neighborhood farmer's market. Large pieces are tossed with red leaf, a lemony bright vinaigrette, chopped eggs and capers. Any leftover vinaigrette is delicious over steamed green beans or grilled fish.
Ingredients
3 tablespoons 1-inch-long snipped chives
3 tablespoons fresh parsley leaves
3 tablespoons fresh mint or tarragon leaves
3 tablespoons roughly chopped fresh basil leaves
1 1/2 tablespoons minced shallot
1 1/2 teaspoons finely grated lemon zest
2 tablespoons freshly squeezed lemon juice
4 tablespoons canola or other vegetable oil
2 tablespoons extra-virgin olive oil
Salt and freshly ground black pepper
One 12-ounce head red or green leaf lettuce, or a mix, rinsed and spun dry, and torn into bite-size pieces
2 hard-boiled eggs, chopped
2 tablespoons nonpareil capers, drained
2 tablespoons finely grated ricotta salata
Cooking Directions
Combine all the herbs (there should be a generous 3/4 cup total) and set aside in a small bowl.
In another bowl, add the shallot, lemon zest, and lemon juice. Slowly whisk in both oils to form a vinaigrette. Add 1/2 teaspoon salt and 1/4 teaspoon pepper, and set aside.
Combine the lettuce, herbs, eggs, and capers in a medium bowl. Season lightly with salt and pepper. Stir the vinaigrette and add 4 tablespoons. Toss gently. Divide the salad among six serving plates or transfer it to a serving bowl. Garnish with the cheese, and drizzle with more vinaigrette as desired.
Recipe courtesy Emeril Lagasse, "Farm to Fork: Cooking Local, Eating Fresh" courtesy MSLO, Inc
Food styled by Karen Pickus
Other Recipes That You Might Like