Emeril's Greek-Style Lamb Kebabs
Light and Tasty -- Perfect for a Summer's Day!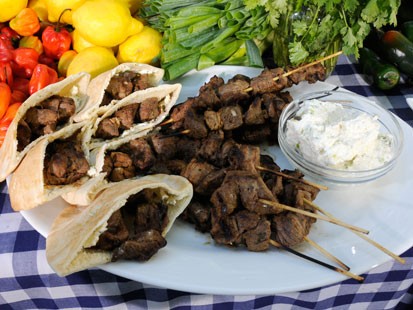 From the kitchen of Emeril Lagasse
|
Father's Day is just around the corner. Celebrity chef, TV host and author Emeril Lagasse offers this great meal for idea for Dad's special day.
Ingredients
1 1/2 cups finely chopped onion
1 tablespoon grated lemon zest
1/4 cup freshly squeezed lemon juice
1/4 cup chopped fresh parsley
1/4 cup chopped fresh cilantro
3 tablespoons chopped fresh mint
2 teaspoons salt
1 teaspoon ground cumin
1 teaspoon sweet paprika
1 teaspoon freshly ground black pepper
1/4 cup olive oil
2 to 2 1/2 pounds boneless leg or shoulder of lamb, cut into 1-inch cubes (with some of the fat still attached)
8 to 10 bamboo skewers
8 pita breads, warmed, for serving
Feta spread, for serving
Cooking Directions
1. In a large bowl, combine the onion, lemon zest, lemon juice, parsley, cilantro, mint, salt, cumin, paprika, pepper, and olive oil. Stir well. Add the lamb and toss to coat it with the marinade. Cover with plastic wrap and refrigerate for 2 to 4 hours.
2. Soak the skewers in warm water for about 1 hour before assembling the kebabs.
3. Pre-heat your grill to high, and lightly oil the grate.
4. Thread the lamb onto the soaked skewers, and place them on the grill. Cook -- turning frequently to promote even browning -- for 12 to 14 minutes.
5. Wrap a pita bread around the meat on a skewer, and while holding the bread firmly around the meat, twist the skewer out of the meat. Drizzle the meat with feta spread to your liking. Repeat with the remaining pitas and skewers, and enjoy!
Recipe courtesy Emeril Lagasse, from Emeril at the Grill, Harper Studio Publisher, New York, 2009, courtesy MSLO, Inc.
Other Recipes That You Might Like