Spring Cassolette
From 'Chef's Table'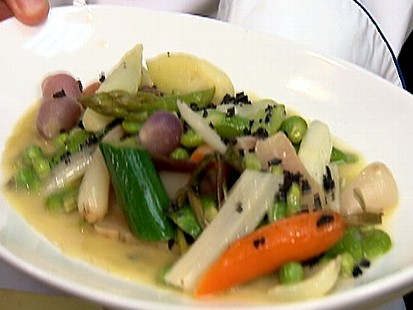 Allegretti Exec. Chef Alain Allegretti delicately sautes regional vegetables.
From the kitchen of Alain Allegretti
|
Ingredients
For the Cassolette:
8 Green asparagus (cut in half)
8 White asparagus (cut in half)
8Baby zucchini (cut in half)
16Haricot verts
5ozPeas
16Breakfast radish
24Red pearl onions
8Ramps
4ozFava Beans
8Mini carrots
6Garlic cloves
1Thyme bunch
Extra Virgin Olive Oil
Fine Sea Salt
White Pepper
2qtChicken Stock
2ozSherry vinegar
2oz Black Truffles, finely chopped (optional)
Cooking Directions
Peel the white and green asparagus. Cut the asparagus in thirds and the baby zucchini in half.
Blanch the asparagus, zucchini, haricot verts, and peas, separately in a pot of salted boiling water. Cook until tender and shock in an ice bath. Put aside.
Coat bottom of saut?? pan with extra virgin olive oil and bring to medium heat. Add one clove of garlic and a sprig of thyme. Add breakfast radishes and saut??, without color. Season with salt and white pepper. Pour chicken stock to pan, until it reaches top of the radishes. And cover with a parchment lid. And braise until tender (3-5 minutes). Remove and set aside. Save and strain braising liquid.
Repeat Step 4 to cook the red pearl onions (5-7 minutes), ramps (3-4 minutes), and mini carrots (7-9 minutes). Remember to save and strain the braising liquid.
Fill a deep saut?? pan with 15oz of the braising liquid. Add the radishes, pearl onions, ramps, and carrots.
Place on a medium flame, and bring to a simmer. Add a tablespoon of butter and black truffles.
Simmer for 2 minutes. And add the asparagus, zucchini, haricot verts, fava beans and peas.
Cook until liquid has reduced to nappant (gravy consistency).
Afterwards, add the sherry vinegar.
Season with salt and white pepper, to taste.
To plate, place equal parts of each vegetable in the middle of a shallow dish. And cover with the braising liquid reduction.
Other Recipes That You Might Like