Clafouti with Black Cherries
From 'Chef's Table'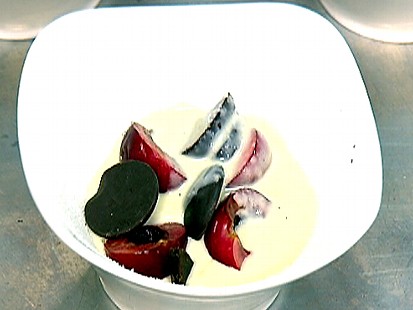 Allegretti Exec. Chef Alain Allegretti bakes a warm creamy dessert.
From the kitchen of Alain Allegretti
|
Ingredients
For the Clafouti:
8oz Crème fraiche
¼ Cup Almond flour
¼ Cup Sugar
1 Large egg
1 Egg Yolk
1/2 Vanilla bean (split and scrape)
1tsp Cherry brandy (Kirsch)
8 Chocolate Beans (Caraibe 64%) - cut in half
1 Tablespoon Unsalted butter, room temperature
4Tablespoon Sugar
12 Black cherries (pitted and halves)
Cooking Directions
Preheat the oven to 325°F.
Mix the crème fraiche, almond flour, sugar, egg, and yolk. Whisk until there are no clumps.
Add the vanilla bean and the cherry brandy. Mix well, and taste. Add more brandy, if necessary.
Set batter aside, and let rest for 15 minutes.
Meanwhile, butter four 4oz ramekins and sprinkle the sides with sugar. Shake off excess sugar.
Fill the ramekins with four cherry halves and chococlate beans, and pour 4oz of clafouti batter over them.
Place in the preheated oven, in a water bath (place the ramekins in a 2-inch deep pan, and pour hot water in the pan). Bake until the custard is firm.
Serve lukewarm. Garnish with a tablespoon of crème fraiche and a leaf of mint.
Other Recipes That You Might Like